Shop
Over time, people have asked me about my stuff (what I think of them, where they can get some, etc.). So I've made notes here, so I remember where I got them. I focus on the (luxurious) essentials here:
---
Backpack
Since I travel a lot, I need a backpack designed for secure urban travel through airports and sidewalks rather than wilderness bushwacking.
For years I've made do with cheap ones I got during conferences.
So the backpack that makes the most sense for my everyday carry needs is Cabin Max Metz Backpack Flight Approved 55x40x20 inch Carry on Bag ($50)
I'd like to put a patch (such as an American flag) over their big logo, though.
Below are discussion of specific attributes versus trade-offs:
Size & Weight
The key requirement is smaller than the maximum size to qualify as carry-on luggage defined by IATA of 22 x 18 x 10 inches (56 x 45 x 25 cm), including all handles, side pockets, wheels etc. Some airplanes can only accomodate smaller, down to 21 x 14 x 8 inches (40 x 30 x 20 cm). PROTIP: I prefer a backpack this size so I have the flexibility to carry several laptops, cameras, recording gear, etc.
The room's there when needed at a lightweight 700g with water resistant 600D material, which the Amazon Basics bag does not have.
Such a size may be too big for most. The pack has side compression/cinch straps to flatten it out. But I rarely use them. I would rather cinch up a pack than not have enough room when I need it.
A big backpack plus carry-on roller-bag would allow me to get on the plane with the maximum amount of luggage space.
Some people can't carry backpacks, so a regular rolling bag would be needed. Wheels add weight, so I've steered away from them (sorry, can't resist the pun here).
Comfort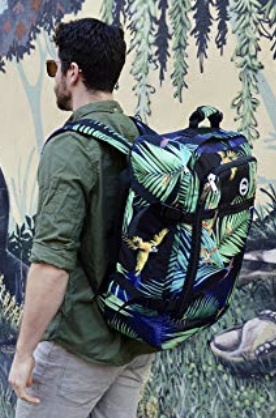 A backpack the size of carry-on luggage seems less comfortable to carry for long periods, and less "executive business style". Walking into an office with it may look like you're invading the place. But that may be the message you want to send.
It would be nice to have more adjustable shoulder straps that transfers weight to the hips. Front straps are especially important for a women's physique.
A smaller "day pack" that mates with a carry-on would be ideal, but I haven't found one I like.
Colors
A dark gray color backpack is less noticeable than a bright-colored pack to alert thieves and fashion police. Mine is black but there is a gray camo fabric.
Waterproof Zippers
Zippers is where my previous backpacks wore out first. "YKK" brand zippers (from Japan) are considered the best. New versions are leak-resistant.
Dry duffle bags are waterproof, but are carried by hand.
Rimowa hard-shells (with wheels) have a waterproof seal and made of material airplanes use: Aluminim and light-weight polycarbonate. Their Cabin S carry-on is $820.
https://heysamerica.com/products/atlantis-elite-26
External quick access vs. security
[_] Valuables such as passport and currency I put in a internal wallet I wear under my shirt.
A sleek look without side pockets (that never seem to be the right size) is a hallmark of the [Astor, Minaal] packs. Otherwise, I prefer a front flap that unzips completely to see at a glance where various small items are (headphones, pens, batteries, cords, SD chips, etc.)
[_] External locks are a trade-off sacrifice of quick easy access to glasses, water. But the types of lock that TSA requires are only a deterrant to pick-pockets, and not effective when left alone in a room you don't control.
PROTIP: Easy open external pockets on backpacks makes for easy pickings for pick-pockets as well. So in those I put stuff I can cheaply and easily replace:
[_] lost/emergency contact card inside a Ziplock bag so water doesn't destroy the ink. The address is not where I actually live.
[_] A decoy wallet to give robbers. Dropping it on the floor gives you time to run away.
[_] Moneybelt
[_] A cache of business cards
[_] Pen and small notebook
[_] Small measuring tape
[_] Magnetic compass. The Brunton compass I can squeeze (without a tool) to rotate the plate to remind me to adjust for magnetic declination vs. True North on maps.
PROTIP: In the continental U.S., magnetic declination can vary from nearly 20 degrees East in places on the West Coast to nearly 20 degrees west in places on the East Coast. A 15 degree error when traveling over a mile puts you a quarter-mile away from your destination at the end of a day hike. Currently, Magnetic North is roughly north of Hudson Bay in Canada. It has moved over 2.5 degrees during the past 22 years and is recently moving at a faster rate toward Russia. Use the use this NOAA website to calculate and learn to use it.
Hanging on the outside of my pack:
[_] Large carabiner and straps to attach the pack so it stays on top the handle of a rolling luggage bag.
[_] A thermometer for ambient temperature. Not really accurate but good to know. A laser therometer is useful for use while cooking. Some smart phones have one.
[_] Hand sanitizer bottle.
Security features
Mimizing external pockets also minimizes the number of (TSA approved) locks to secure the pack when I need to.
Easily lockable zippers make it harder for people standing behind me in line to explore the pockets on my backpack.
Hidden (anti-theft) zippers and cut-proof fabric are key features of the [ XD Design Boddy] pack from the Netherlands (@XDDesign_) - a sleek looking. Estimated to be available for $100 November 2016 after an April, 2016 campaign on KickStarter AND Indiegogo.
Bulletproof inserts
30 sheets of DuPont Kevlar fabric weighing 8 ounces have been rated "Level 3A" by the National Institute of Justice (NIJ, a wing of the U.S. Justice Department) to "resist" handgun bullets of .357/.44/.45 or 9mm caliber.
If you want an inserts, you might as well get the $190 bulletproof writing+tablet folio of 3 lbs. at 10 x 13.75 x 1" wide.
This $330 backpack separates to form a bulletproof vest:

PROTIP: It won't protect against shots to the head or from the side. They also don't stop high-powered rifles like the AR-15 used by shooters. And protection expire after 5 years, less if exposed to high heat. So don't buy used ones.
There is $7,400 Armani suit or $850 vest with bulletproof lining.
Additional features
A smaller Anti-theft alternative is the 17 inch $42 On Amazon: Kopack (Laptop Shockproof Lightweight Daypack ScanSmart Waterproof)
Some high-tech packs have:
an alarm that sounds if someone picks it up. This can be added on.
Red LED rear light for safety [Astor]
Red LED side light for safety [Astor]
Front lights [Astor]
Locator beacon (such as Tile)


PROTIP: The trouble with anything electrical is the hassle of remembering to keep its battery charged.
Other qualities and alternatives I've considered during my survey of various ones out there are below.
Backpack Alternatives
Internal arrangement
I like having one big compartment that unzips completely open, splayed) [Astor], rather than several pockets that snag on stuff.
PROTIP: I custom-made little boxes that doubles as padding to cushion all around my laptop. Hats, gloves, scarf at the top because they are used in the winter. Change of socks and underwear, which I rarely need, at the bottom. Extra shirt and towels on the left and right compartments.
Some boxes are made of insulation material because many items (food, medicines) degrade when hot. The material also provides some stiffness. Some packs contain soft pull-out packs. But I prefer stiffer water-tight boxes so they stack neatly in the pack.
They are more effecive than internal compression straps to keep things inside the pack from knocking into each other.
The [XDDesign Bobby] features high density foam.
Having internal compartments that are water-tight seals.
Glasses
Glasses are one of my essentials. So I keep an extra set in my backpack, in the car, in my suitcase.
Considerations:
width appropriate for face?
bridge riding on nose?
"ballistic" lenses that won't shatter?
Sides covered for dust protection or open for airflow?
reflective?
hard case?


[_] Polarized sunglasses are a must-have. Maui Jim's gave free repairs if I pay to ship mine to Hawaii. But after losing too many, I've gone to cheaper ones. Costco has good ones from name brands for $30.
Ray Bans, which are a great value. $30 from Costco.
[_] Blue-light blocking reading glasses (in a hard case) for those older 40. I like the ones with a yellow tint which block blue light to help me sleep better. Newer ones, such as the $15 Joox, at 40% tint, is a less noticeable yellow tint. Hinges of the $17.50 Gudzws are rather fragile.
[_] Polarized (dark tint) reading glasses that turn dark for use in the sun.
Face Masks
https://www.wired.com/gallery/best-face-masks/
Adapters
[_] Micro USB to USB-A to transfer and charge Android mobile phone.
[_] PROTIP: The Android mobile battery charger enables me to charge one battery while another is being used.
PROTIP: The ability to remove and replace batteries is why I went with Android S3 rather than iPhones. But there are precious few models left that do. Alas, Verizon doesn't serve its 3G technology.
[_] A Google Cast HDMI plug and micro-USB electrical with a long chord to project to a TV from your laptop.
[_] HDMI and VGA monitor adapter for your Mac or PC, if you speak at conferences.
[_] Ethernet network dongle if you have a Mac.
Electrical Electronics
[_] A electrical cord with 3-prong plugs enables me to keep all my stuff charged, especially in airports. $9 from Walmart.
PROTIP: I don't recommend solar panels. Small ones don't make much energy. Plus I'm not outside much anyway.
[_] A big Lithium-Ion battery powers my Mac laptop for a few hours. But it's heavy and can explode.
[_] Instead of turning on the light to wake everyone up, Streamlight 73001 Nano Light Miniature Keychain LED Flashlight is an amazing little flashlight that is super bright and tiny.
BTW Not on this list are locator beacons. I got a few Tile chips (for about $20 each) when they were first on Kickstarter. But after a year, when I needed it, I realized they had died.
[_] Micro SD cards and USB sticks for smartphones and cameras.
Webcam
The camera built-in at the top of my laptop is still too low. When I have an additional screen to record in 1900 x 1820 (HD) 16:9 aspect ratio for YouTube, etc. I show everyone my nose hairs.
[_] Logitech offers a range of webcams. I got the $70 920s with an ingenous clip. Unfortunately, on my Mac it "Works in USB Video Device Class (UVC) mode with supported video-calling clients:".
Logitech's RightSight software (LogiCameraSettings_2.6.2.pkg) automatically moves the camera and adjusts the zoom to comfortably frame meeting participants using Meetup, Rally, or Rally Camera firmware.
Sleep Aids
[ ] A comfortable set of eye shades that block out light from our peripheral vision is important for sleep.
[ ] Neck pillow. The squeeshy ones sold in airport stores are bulky and unsanitary to carry. My favorite is the Trtl Pillow, $30 from Amazon. It's a neck wrap with a metal support on one side.
[ ] Ear plugs.
[ ] Over-the-ear noise-cancelling headphones (below)
Headphones
I've had several headphones over the years. That's not to be fashionable, but because I lose them, sit or step on them or, in the case of the Sony MX1000, they broke easily at the swivel.
Difficulties with alternative designs:
In-ear plugs like Apple's AirPods Pro hurt my ear.

When I want to seem more approachable, I wear a bone-conducting headphone. I wear them in the car so I don't get a ticket when I listen to my iPhone while driving a noisy van. But I found others can hear the sound from them. And they co-exist better when wearing glasses.

Over-the-ear headphone I wear as ear muffs to keep warm in the winter. And there is nothing that says "don't talk to me" like having big headphones on.
I got the flagship WH-1000XM3 ($249 - $350 available since August 2018) adds touch controls and microphone to make calls.
I've accidentally hit its playback controls on the right earcup because they are touch-sensitive. To skip forward, swipe forward. Swipe left to go back. Pause and resume by double-tapping. Swipe up or down to control volume. Tap once to activate voice assistant and answer phone calls. Nice when I'm wearing gloves.
But the most desired now (May 2019) is Dolby's $499 Dimension Bluetooth headphones.
DURABILITY: Dolby has a metal connection between earpiece cup to the headband. This is versus WH-1000 models which has a plastic hinge that allows the headphone to fold is easily broken. And Sony refuses to replace ones that break.

With Bose, I once commented to a salesclerk that my Bose headphone chord frayed, and he just gave me a new cable.

PORTABILITY: The Sony is somewhat troublesome to contort so they fit into its case and take up more room in my backpack.

Dolby headphones do not fold. But I would take that if it's sturdier.

MEH: The most annoying aspect of Sony is it needs to be paired with a smartphone or it turns off after 5 minutes. In other words, you can't use it just for noise cancellation on an airplane without worrying whether your smartphone has enough juice for the trip.

AMBIANT SOUND: It would be cool to wear those headsets with the clear cord. The FBI, CIA, cyclists, and other bad-ass serious people wear them so they can hear ambiant sound.

NOISE CANCELLING: The Sony headphones has noise-cancelling, either 3.5mm cord (for use on airplanes) or Bluetooth.

SWITCH AMONG SOURCES: The Sony is more hassle than it's worth because I have to constantly turn Bluetooth on or off either my Mac or iPhone so the headphone doesn't pair with the wrong device.

The Dolby has 3 buttons to switch among 3 sources. Sweet.

EASE OF CONFIGURATION: With Sony, "You have to manually turn on the aptX/AAC codec. To do so you have to either do a terminal command. The other option is to download the developers kit Xcode and then download Bluetooth file exchange and there are a few boxes you check to manually turn on the aptX/AAC."

This model also pairs with the Sony | Headphones Connect app for Android/iOS so you can specify sound Equilizer settings.

BATTERY LIFE: Sony claims 30 hour battery with 10 minute charge for 5 hours of playback.

The new models have gone to a USB Type-C charging port, but its annoying is MEH: the headphone don't work when being charged.

The Sony H.ear On WH-H900N recommended by WireCutter. It's available at Costco and Amazon for $230.

The WH-CH700N at $198 list is less than $100 refurbished.

MICROPHONE FOR CALLS: The new Sony model still suffers from a built-in microphone others have trouble hearing since it doesn't have a boom like some others. So its Google Assistant and Alexa integration may not work well.

The older WH-1000XM2 has slightly smaller earcups, sensitivity, and impedence.
Water
[_] A "LifeStraw" bottle enables me to drink tap water with impunity. Offices can have water quality issues one cannot see. Its $32 from Walmart is a bargain when considering the exhorbitant prices airport shops charge for water bottles. I just have to remember to empty it before going through airport security.
PROTIP: On average, a person needs a half gallon (64 oz) per day.
Water weighs 8 pounds per gallon (4 liters). So it can be the heaviest item in a backpack.
BTW, a gallon is 4 quarts. A quart is 2 pints. 4 quarts is 8 pints.
Some hikers enjoy the convenience of an external water tube to reach an internal water bag so it's not necessary to stop and remove the bottle for a drink. Some bags have them built-in but there are add-ons available.
Cooking and heating
[_] It's a true luxury to have a hot drink on a cold night or a cold drink on a hot day. Double-walled canisters keep hot drinks hot and cold drinks cold.
[_] I got a cup made of silicon so I can microwave water or the contents of a large Campbell's soup can.
[_] I put it under a paper plate to handle the flimsy silicon when it's hot.
[_] At home, I think those plastic containers restaurants use to hold hot take-out soup are fantastic.
[_] I'm a big fan of Rubbermaid containers. Oh so convenient. But at $9 each, they are more expensive than the food it holds.
Food and Medicines
I prefer foods without added salt, sugar, MSG, and other chemicals (such as meat jerky).
[_] A bag of mixed unsalted nuts and dried or freeze dried appricots, mangos, strawberries, etc.
[_] Long titanium spoon to eat from a Mountain House foil pouch. Regular spoons are too short cause you to have food on your knuckles. $12
[_] Small sissors with rounded tips for kids, with a cover. I've never had TSA at airports flag it. $2 from Walmart's art section.
[_] Small medicine bottles are waterproof to hold medicines and herbs and spices to add to food. Tameric. Cardemon. Balsalmic vinegar. Port wine to go in clam and other chowders. (Yes, I'm a foodie snob)
CALENDAR PROTIP: Food spoils over time. So write a date on each item and enter a replacement recurring appointment on my calendar a few months out so it's eaten before gong stale.
[_] Small roll of toilet paper in a waterproof and abrasion-resistent bag.
Backpack Toiletries
I keep a small bag in my backpack for essential toiletries:
[_] Deoderant
[_] Hair gel
[_] Toothpaste (small size)
[_] Disposeable shaver
[_] Dental floss
[_] Wash cloth (polyester for faster drying than cotton) Use it to clean computer screens.
[_] First-aid bag with band-aids
[_] Breath mints
[_] Antacids
[_] Earplugs in a plastic case to keep dirt off them
[_] Matches
[_] Whistle
[_] Travel-sized Febreze To Go.
Just in case
[_] A mylar reflective blanket. It's less than an ounce. $6.20 for 10
I was glad I had one to put on top of someone who had fallen, passed out on the sidewalk. That may keep someone from going into shock.
[_] Small patch of clear repair duct tape to patch fabric tears without looking trashy. $5.80 for 5 yards 1.5 inch wide. I put this in an insulated box because adhesives degrade.
[_] Needle and thread kit.
In Suitcase
[_] A 2TB USB drive containing a full backup of your laptop separately from your backpack, such as in your sleeping bag by your feet.
[_] A backup smartphone in a water and shock proof container in case the regular one is damaged.
[_] $50 Cocoon Silk TravelSheet (Sleep Sack) keeps your skin away from quesionable sheets with a nice-feeling one. Lightweight and compresses to a small size. (Yeah, I'm spoiled)
[_] A quart-size bag that form a bubble around shirts and suit coat to keep them from being wrinkled.
[_] UV flashlight to reveal proteins if sheets are not fresh (free of bed bugs, etc.). I've found issues even in five-star hotels.
Suitcase toiletries bag
[_] Toiletries bag that hangs, such as the Ogio Doppler bag.
[_] Eye mask
[_] Q-tips in a box or waterproof small Ziplock bag
[_] Nail clipper
[_] Mirror
Suitcase liquids bag
I get small 3 oz. bottles or fill up little tubes rather than handling and carrying big bottles.
[_] Thick plastic waterproof bags (rather than zip-locks that leak over time)
[_] Deoderant
[_] Shampoo
[_] Liquid dish soap
[_] Sunscreen
[_] Bug repellant
[_] Woolite Travel Laundry Soap or Travelon Laundry Soap Sheets so you can hand wash laundry in a sink.
Clothing in suitcase
PROTIP: An extra pair of socks and underwear makes for great padding for electronics.
[_] Gloves with touch-screen fingertips. I prefer leather gloves for its wind protection, but they are slightly heavier.
[_] Hat (cap), because you loose a lot of heat through your head.
[_] Scarf (shemag) of 42 x 42 can be used to filter water and as an evaperative cooler. Also breathes through it in smoke.
[_] Money & passport hider
[_] A rainsuit (with pants) takes less room than I thought. The Frogger rainsuit replaces umbrella, which doesn't work that well anyway for protecting pants. So wear dark pants ;)
[_] Underwear from Ex-officio, at $25 each, is worth every penny to me for its comfort and quick-drying properties (not cotton) It doubles as a bathing suit (kept in a waterproof bag)
[_] Extra bag for souvenirs
[_] One-quart size waterproof airtight bag for storing soiled underwear.
In the Car
[_] shopping list and menu plan I keep in a Google Sheet app on my smartphone.
[_] Insulating tote to take into grocery stores to keep items cold in the cart and on the way home. PROTIP: Trader Joes have such great ones that used ones show up in eBay for more than new prices.
[_] Totes containing used plastic produce bags so I don't need to consume new ones.
[_] Storage jars so I use less plastic.
Car glove compartment
[_] Metal straws because
[_] Napkins
[_] DC to AC Converter (400 Watts)
[_] Registration from the state DMV.
[_] Accident info card to give to the other driver. This is different than the insurance card, which has your home address.
[_] A sachel of coins and small bills for parking meters and toll booths. This to avoid tempting thives to break your car window.
[_] A pair of waterproof work gloves
[_] Screwdrivers (flat and phillips head) multi-tool
[_] Tire gage
For Sleeping in the car
In case of breakdown in the Winter, in an old (squarish) backpack containing what is needed to survive a weekend:
[_] Water in boxes.
[_] Rain suit (pants, jacket) so you can work outside in the rain - $23 from Walmart
[_] strap-on headlamp (with extra batteries and red lens filter) for being to use both hands in the dark. Smartphones can be used as a flashlight. But a headlamp flashlight will save your phone's battery during extended use.
[_] Hand warmer chem packs for skiers. There is an electrical heater so it doesn't use up oxygen. This is where electric vehicles like a Tesla come in handy.
[_] Jumper cables with a capacitor battery
[_] A 3-season sleeping bag and pads
[_] Nylon cord
[_] Trowel in case I have to dig in dirt
[_] Earplugs to reduce noise.
[_] A bottle with a wide opening to pee in, so you don't need to go outside.
[_] Pepper spray as a defensive weapon.
[_] Extra car battery (if you have the room)
For Rough Sleeping
[_] A tent (with stakes) is the item which separates a city pack and wilderness backpacking.
I think it's wise to be experienced and prepared to sleep in the "cuts" (hideaway spots like bushes and alleys). It's not just in case you're homeless. I've been in a city where I can't find any hotel room available. I've slept on a sidewalk in front of a store waiting for it to open so I am among the first to buy a hot item. I've slept on a sidewalk to squat a spot to watch a parade the next morning. I've slept in airports waiting for an early morning flight.
So I'm not so quick to judge people rough sleeping in the city. Public Shelters can be dangerous places. It's difficult to keep my fancy backpack and its thousands of dollars of contents from being stolen there while I sleep.
PROTIP: Many cities and towns have a thing against people sleeping on the street. Their solution is usually have the police annoy the homeless (waking them up in the middle of the night) so they move to another city.
I think that's unconstitutional "cruel and unusual punishment" under the Eighth Amendment. The Ninth U.S. Circuit Court of Appeals on September 2018 ruled against "criminal penalties for sitting, sleeping, or lying outside on public property for homeless individuals who cannot obtain shelter."* The state, the court said, "may not criminalize conduct that is an unavoidable consequence of being homeless." The suit was brough by Eric Tars of the National Law Center on Homelessness & Poverty.
So I try to boycott US towns that practice that, such as Boise, Dallas, Denver.
I applaud Saleforce billionaire Mark Benioff for leadership in this. Meanwhile, Amazon is doing what?
Nordic countries Finland have substantially cut both their homeless and saved social support costs.
[_] Please donate to the Navigation Centers in San Francisco. They provide a viable shelter by proving storage, eliminating curfews (for those who work odd hours), not requiring resident to exit the premises each morning, allowing pets, and permits mixed gender sleeping arrangements rather than separating families and couples. But one has to dial 311 (415-701-2311) to get on their waiting list. More than a dozen cities from Santa Rosa to Seattle and Austin, Texas, are copying the model*
Anyway, dangers from rough sleeping makes it helpful to have a buddy with you. If you're traveling alone, perhaps team up with another homeless person. Better yet, many cities have street counselors.
[_] A chain with lock to tie the backpack like you would a bicycle. They can be heavy, though.
[_] Foldable bicycle.
Resources
Support this site
Click on this link to Amazon before buying anything there and I'll get a tiny bit of cash.
---
---