This may be the most important skill for Digital Transformation or to implement any change
Organizational Change Management (OCM) is essentially a wide-scale plan that aims to increase individual and organizational effectiveness by making use of behavioral science technology. The purpose of this is to reduce the chances of negative fallout in a business and to put more emphasis on the people side of how an organization can change. – MSI
Organizational Change Management is commonly referred to as communication and training, but that is a very limited and inaccurate description. Change management has to do with the people side of the transformation. How jobs are going to be redefined. New organizational structures. Change impacts: understanding how people's roles and responsibilities are going to change. [Lack of attention to Change Management] is the number one reason why a majority of transformations fail – because they don't address Organizational Change Management. –VIDEO: Eric Kimberling of consultancy Third Stage.
Positive changes to a business can help it be more efficient, less wasteful, and more productive.
But change management isn't easy.
The most common quote I've seen about change management is from the book "The Prince" (originally in 16th century Italian) by Niccolo Machiavelli, considered by many as the father of modern political science:
… there is nothing more difficult and dangerous, or more doubtful of success, than an attempt to introduce a new order of things…
Implementing innovative solutions is hard work, and it requires strong collaboration and broad consensus building, not only with direct partners and supporters, but also amongst perceived competitors.[1]
Research has shown that major transformational change has only a 30% chance of meeting all or most of the results expected.
Machiavelli continues …
Hence it is that, whenever the opponents of the new order of things have the opportunity to attack it, they will do it with the zeal of partisans, whilst the others defend it but feebly, so that it is dangerous to rely upon the latter.
Kurt Lewin uses the word "subversion" not to imply any sinister motive, but to state what happens when change isn't reinforced. https://confidentchangemanagement.com/book-reviews/dynamic-theory-of-personality-selected-papers-of-kurt-lewin/
NOTE: Content here are my personal opinions, and not intended to represent any employer (past or present). "PROTIP:" here highlight information I haven't seen elsewhere on the internet because it is hard-won, little-know but significant facts based on my personal research and experience.
The Formula Predicting Success
We can predict whether a change will actually happen by answering a question:
Is the pain (cost) of making a change (X) less than the pain of staying the same?
Beckhard and Harris suggest a formula like this:
X < (A + E + P)
A = Level of dissatisfaction with the status quo
E = Desirability of the proposed or end state
P = Practicality of the change
X = Cost of changing
The above means that we can tilt the odds by:
Raising (recognizing/admitting) to all the cost of the existing environment and processes

Ensuring that all have a clear understanding of the future

Ensuring that each persona understands their role in getting to that future

Reducing the cost of changing through experienced support and automation
---
Stages of change
Comparing the stages defined by various change management experts: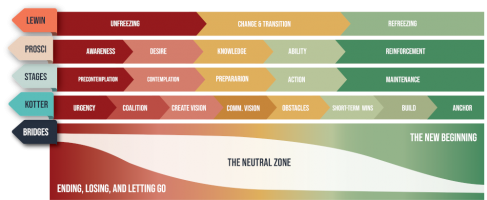 (At the bottom of the diagram), Brooks describes a Neutral Zone between Ending, Losing, and Letting Go on the way to a New Beginning.
Kurt Lewin describes three stages to conceptualize broad categories of the change process before discovering more detailed models:
Unfreezing, Change and Transition, Refreezing
There are 3 phases in the Prosci Process for organizational change:
Prepare Approach - deliverable Change Management Strategy establishes the approach needed to deliver desired project outcomes.

Define Success - What are we trying to achieve
Define Impact - Who has to do their jobs differently and how?
Define Approach - What will it take to achieve success?



Manage Change - deliverable Master Change Management Plan consolidates individual plans and serves as the guiding document for the change management team.

Plan and Act - What wil we do to prepare, eqipt, and support people?
Track Performance - How are we doing?
Adapt Actions - What adjustments do we need to make?



Sustain Outcomes - the deliverable Change Management Closeout documents the change performance status, plus prepares the organization to own and sustain change outcomes.

Review Performance - Where are we? Are we done yet?
Activate Sustainment - What is needed to ensure the change sticks?
Transfer Ownership - Who will assume ownership and sustain outcomes?


Prosci's ADKAR
Prosci (generalinquiry 970-203-9332) BOOK: VIDEO: ADKAR model for individual change developed in the 90s by Prosci founder Jeff Hiatt after studying the change patterns of more than 700 organizations. Here is a common volcabulary for describing what each individual needs to successfully adopt each change.


Where an individual's journey can get blocked:
Awareness of the need for change (not just that change is happening)

Desire to participate and support the change - the personal choice to get onboard

Knowledge on how to change

Ability to implement desired skills and behaviors (adopt and change)

Reinforcement to sustain the change


VIDEO: When we identify where each stakeholder stands and act accordingly, we don't waste time and resources rehashing what the stakeholder has already passed, or getting ahead of that person.
Stages:
In precontemplation, the individual is completely unwilling to consider a change.
During contemplation, actors are planning for change - how do you setup the right systems to increase the chances of success.
Preparation.
Action against previous holding things in one's hands.
Maintenance.


John K. Kotter's 8-step model first published in the Harvard Business Review:
Create Climate for Change:
\1. Create Urgency
\2. Build a Coalition
\3. Create a Vision



Engage and Enable the Organization:
\4. Communicate that Vision
\5. Empower Others to overcome Obstacles
\6. Create Short-Term Quick Gains



Implement & Sustain:
\7. Build on the Change
\8. Embed (Anchor) the Change


The 2019 Edition of the 79-page Standard defines best practices and ethics in change management based on an extensive Practice Analysis Study, which investigated leading practices in change management with professionals around the world. It references ISO 21500:2012(E) Guidance on project management. There are 23 steps in the process:
Evaluate Change Impact and Organizational Readiness - The processes in this group assess, evaluate, and anticipate an organization and its stakeholders' readiness, ability, and capacity to undergo a transition from the current state to a future state. The processes also include an assessment of the change and the impact the change will have on the individual and organization. History, culture, and value systems play key roles in these evaluations. The results provide change practitioners with information to calibrate leader expectations and to scale and customize change management plans and activities.

Formulate the Change Management Strategy - The processes in this group develop the high-level approach for change management with sponsors, change leaders, content developers, program managers, customers, and others on the project. This approach includes governance, risks, resources, budget, and reporting. The change strategy will incorporate, integrate, and align change management plans, activities, tasks, and milestones into the other activities and operations of an organization and its stakeholders at the onset of a change (timing and sequence). Stakeholder engagement is included in this process group.

Develop the Change Management Plan - The processes in this group employ specific change management methodologies and tools to develop detailed plans for implementing the change management strategy. These plans include communications, sponsorship, stakeholder engagement, learning and development, risk management, and measurement and benefits realization. Ongoing integration with project management is included in this process group.

Execute the Change Management Plan - The processes in this group focus on the implementation of work/actions in the detailed change management plans. The work in this area is required to achieve the expected benefits of the change management implementation.

Complete the Change Management Effort - The processes in this group reinforce the work in the change management plans, determine the effectiveness of the work, monitor progress, and transition the change initiative to the business. These processes include measuring results and comparing to the expected benefits or business objectives. These processes also include the continuous improvement activities that come from the post-project analysis and lessons learned.


Summary
[2] Machiavelli directly addresses three core principles of successful change management:
1) Change is a process – Change is NOT just an announcement or an event, it is a process. It is difficult for people to put their faith in something that they have not experienced. This is why it is critical to have active and visible sponsorship throughout the change. More than one change has found itself floundering because the sponsors observed substantial progress and moved on to the next issue, trusting in 'momentum' to carry it the rest of the way. The reality is that as soon as the sponsors lose visibility, the momentum shifts to the defenders of the old way and hard-earned gains are soon lost.
2) Expect resistance – Major change alters power structures, shifts responsibilities, and crosses organizational boundaries, which affects real people with real influence. These real people get their real influence from the existing power structures, responsibilities, and organizational roles. Therefore, it is dangerous to underestimate the power of the desire to hold onto the current state. Machiavelli provided this observation as a reminder that people tend to work in their own self-interest and that the fear of losing something is generally stronger than the hope of gaining something. In other words, don't waste energy wondering why people are resisting and focus your efforts on leading through the resistance.
3) Build support – Left to their own devices, those with power in the old system will actively (though not always visibly) defend the current state and those who will benefit the most from the new system will tend to be more passive in their support. In writing "The Prince", Machiavelli hoped to provide the reader with an understanding of the challenges that lay ahead so that they may be better prepared. Therefore it is a critical role of the sponsor to work at closing the gap by reducing resistance from the first group and building support from the second.
Thus, effective leadership is critical to successful change and requires active sponsorship throughout the change, expecting and managing resistance, and building support.
---
Certifications about change mangement
There are several out there.
Certifications specifically about change mangement
$213 Certified Problem and Change Manager (CPCM) by the Global Association for Quality Management (GAQM), focuses specifically on identifying and fixing problems in an organization - those working with development processes or overseeing product life cycles. It covers identifying areas for change, implementing that change, encouraging employee buy-in, and creating resilient strategies. It's based on EU's e-Competency Framework organized around macro processes PLAN – BUILD – RUN – ENABLE – MANAGE.

Pass 70% of 40 questions in 1 hour online by ProctorU. Closed book. Valid for life.

$245 DevOps Leader (DOL) for a transformational leadership approach to make an impact within their organization by implementing DevOps. Answer 65% of 40 multiple-choice questions in an hour, online, with open book. Leading people through a DevOps evolution requires new skills, tools, innovative thinking, and transformational leadership. Leaders up, down and across an organization must align and collaborate to break down silos and evolve the organization. The exam and course highlights the human dynamics of cultural change and equips participants with practices, methods, and tools to engage people across the DevOps spectrum, such as Value Stream Mapping. Topics include:

DevOps and time to value
Mindset and mental models
Key differences between DevOps IT and traditional IT
Target operating models and organizational design
Performance management, rewards and motivation
Preparing investment cases
Focusing on value outcomes
Ideas for organizing workflows
Empowerment and participation
Defining meaningful metrics
Value stream mapping
Driving cultural and behavioral change


Prosci
Pro Certifications with a change management component:
Tools
There are several conceptual and practical tools:
7 QC Tools used in Six Sigma:
Flowchart
Check Sheets
Pareto Charts with a cumultive line (to separate the vital few from the trivial many)
Fishbone Diagram (5 Whys)
Histogram
Scatter Diagrams (XY Scatter Chart) and Correlation
Control Charts
Root Cause (Fishbone) Diagram
The fishbone diagram visually presents the results of brainstorming exercise aimed at identifying root causes of a problem.
VIDEO: Deming describes use of what he calls the (Kaouru) Ishikawa diagram, which others call a fishbone (or herringbone) diagram.
The starting point is a short description of a single problem, in a box at the right side of the page.

State as a question, such as "why did the website crash"?

Alternately, the problem can be associated with a KPI (Key Performance Indicator), such as:

Cycle Time too slow
Time to Retore too high
Changes take too much time
People are waiting for others too often

Too many work items "dropped through the cracks" - no accountability (no aging reports for management)

Too many work items for the number of resources assigned
Changes take too much effort

Costs too high

Quality (Availability) too low - not meeting SLAs/SLOs
Too many errors



The problem can be the biggest bar (the largest contribution) to causes of problems in a Pareto chart.

Draw a horizontal line and "ribs" to each category. When working on-site, this can be on a large white-board where participants paste sticky notes.

A "fishbone" provides a visual approach to organize ideas into categories.

Define categories (buckets) to prompt brainstorming of causes:

My six-category example: Surroundings/Environment, People/Skill, Measurement/Information, Method/Process, Machine/System/Equipment (Physical causes), Material/Supplier

Common categories: People, Information, System, Process (PIPS)

Common categores in services: Surroundings, Suppliers, Systems, Skill

Common categories in manufacturing 8M's: Manpower, Money, Machine/Materials, Methods, Maintenance, Metrics, Mother Nature (culture), Management

https://www.youtube.com/watch?v=XinW5dwuKsI

Brainstorm causes under each category.

During this step, don't throw out suggestions that may have little impact on the problem.

Remember this is partly a team-building exercise, where you're building fun memories.

Jay calls diagrams that are too big "whalebone" diagrams.

Branch out each cause by adding a leaf after asking Why (5 times).

Review categories to Analyze results.

Have each team member silently assign a priority to each cause.

Create an Action Register to track follow-up on ideas.

A common action is to collect more

Prioritize actions

Define countermeasures (Step 5 of A3)
---
Reverse Fishbone Diagram
---

References
[1] https://www.lce.com/Niccolo-Machiavelli-Change-Agent-1272.html
[2] https://www.linkedin.com/pulse/machiavelli-change-innovation-guido-stroemer/
[3] https://www.cio.com/article/221699/7-change-management-certifications-to-boost-your-it-career.html
[4] VIDEO: Organizational Change Management Training 3 Hr class by Eric Kimberling
[5] https://www.youtube.com/watch?v=feK9hkJ9p2E DevOps and the Future of Change Management - YouTube
[6] https://www.inc.com/marcel-schwantes/5-things-the-most-confident-leaders-do-to-manage-change.html
[7] https://blog.doculabs.com/focus-on-objectives-when-capturing-ccm-metrics
---