Visual, architectural, and culinary art in every state and major city, mapped by Machine Learning
This page lists where one can visit, see, and eat at the most important cultural artifacts in America. I created this page as "bucket list" so that even if I can't visit each one and perhaps enjoy on-site, I can still visit their web pages. Someday soon everyone can see treasures from anywhere using VR (Virtual Reality) glasses providing 360-degree views in High Definition.
Do you have a roadtrip map or story? Please send it to me for posting here.
NOTE: Content here are my personal opinions, and not intended to represent any employer (past or present). "PROTIP:" here highlight information I haven't seen elsewhere on the internet because it is hard-won, little-know but significant facts based on my personal research and experience.
Menu
It's a large country, so cites are listed by each state of the union, along natural geography East-to-West:
Journeys on water as she flows toward the Equator:
Journeys Northward on Cattle Drives in the 1880s.
Journeys Westward on land (The Pony Express
BTW, finding where each site is located resulted in a great geography and historical lesson for me.
References (Websites)
Extreme corners
Iron Butt motocyle rallies award bonus points for reaching the four corners of the nation:
Just Touching Each State
This Google route map was actually used by recent finishers to go around the 48 states in 6 days: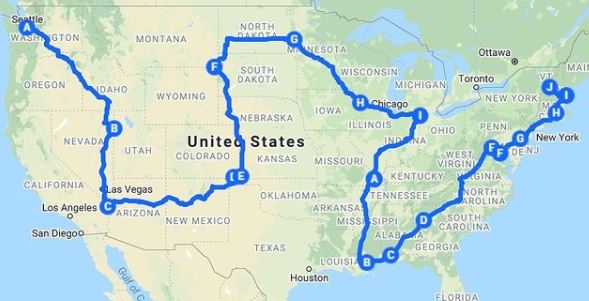 To deter reckless driving among Extreme Road-trippers, the Guinness World Records discontinued listing speed records in 1996. But that didn't stop the All Fifty States Club website.
Notice the separation of green down the middle of the country?
The Rain Shadow divide
VIDEO: 80% of Americans live East of the 98th Meridian, as shown by a green straight line overlaid this map from NASA's BlackMarble satellite images of the nigh sky worldwide: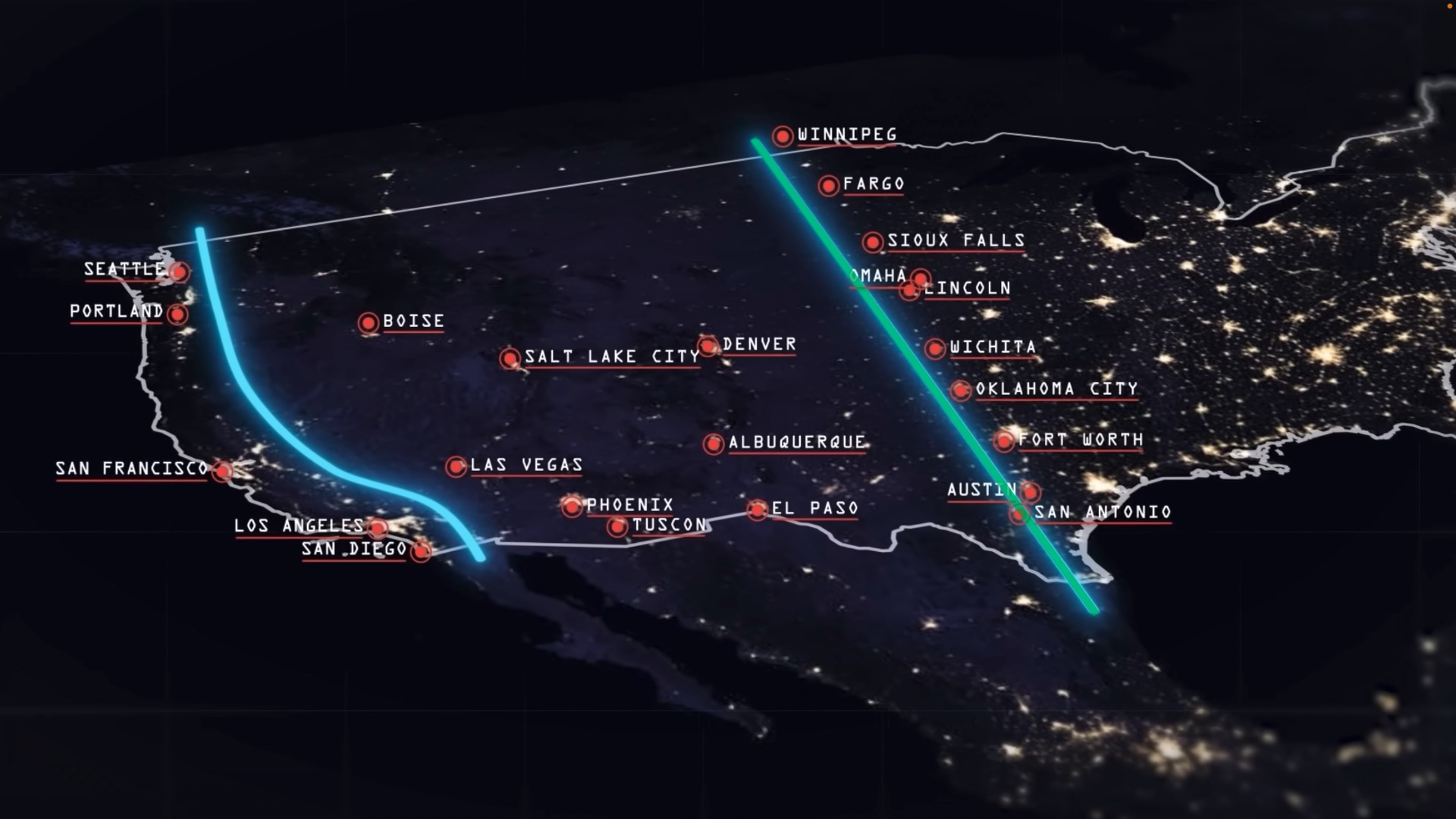 That green line down the middle of America defines the extent wet storms reach from the East. That line also defines the "Rain Shadow" where the tall Rocky Mountains (West of Denver, Colorado) which blocks moisture from the Pacific West.
When geologist John Westly Powell identified this phenomenon across the "pairies" in 1890, that natural line was at the 100th Meridian (vs. 98th today). Since then, "Climate change" continues to shift to the East. So expect less rain from Winnapeg (Canada) to Forth Worth, Ausin, and San Antonio Texas. Also impact will be agriculture around Winnipeg (Manitoba, Canada), Fargo, Sioux Falls, Omaha, Lincoln, Wichita, Oklahoma City.
US interstate highways
East-west interstate highway numbers end with 0.
North-South interstate highway numbers end with 5.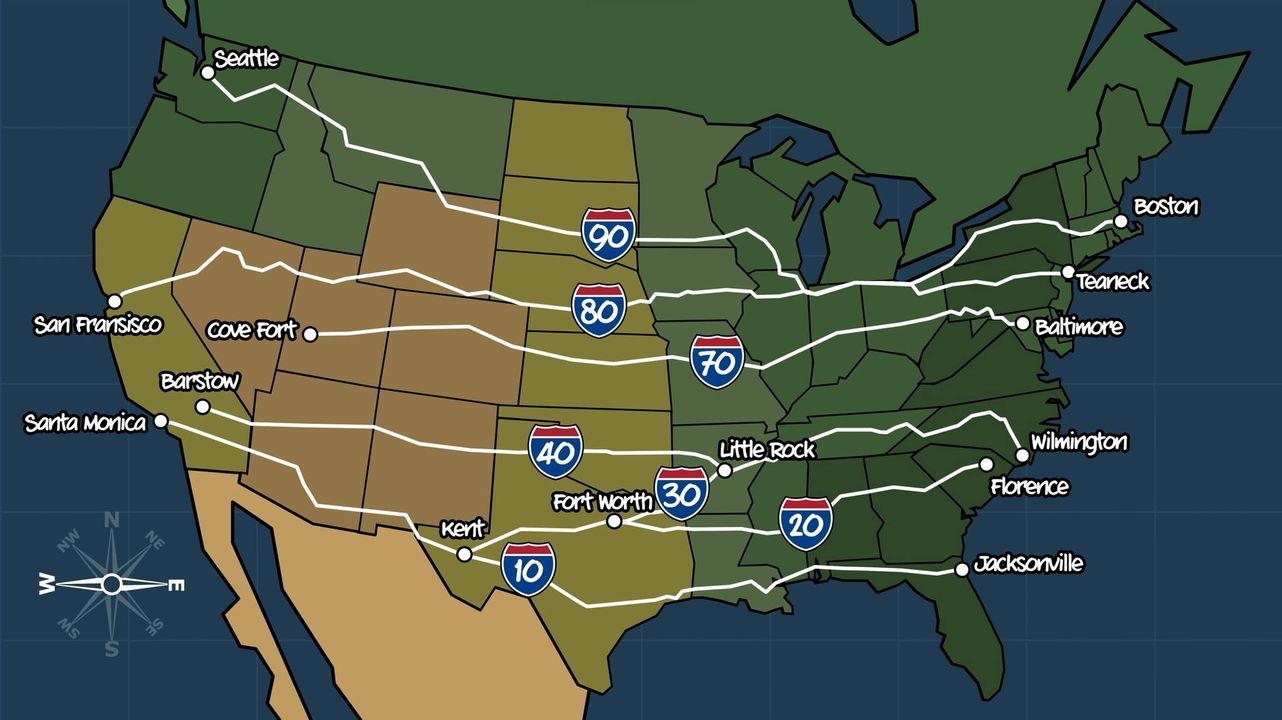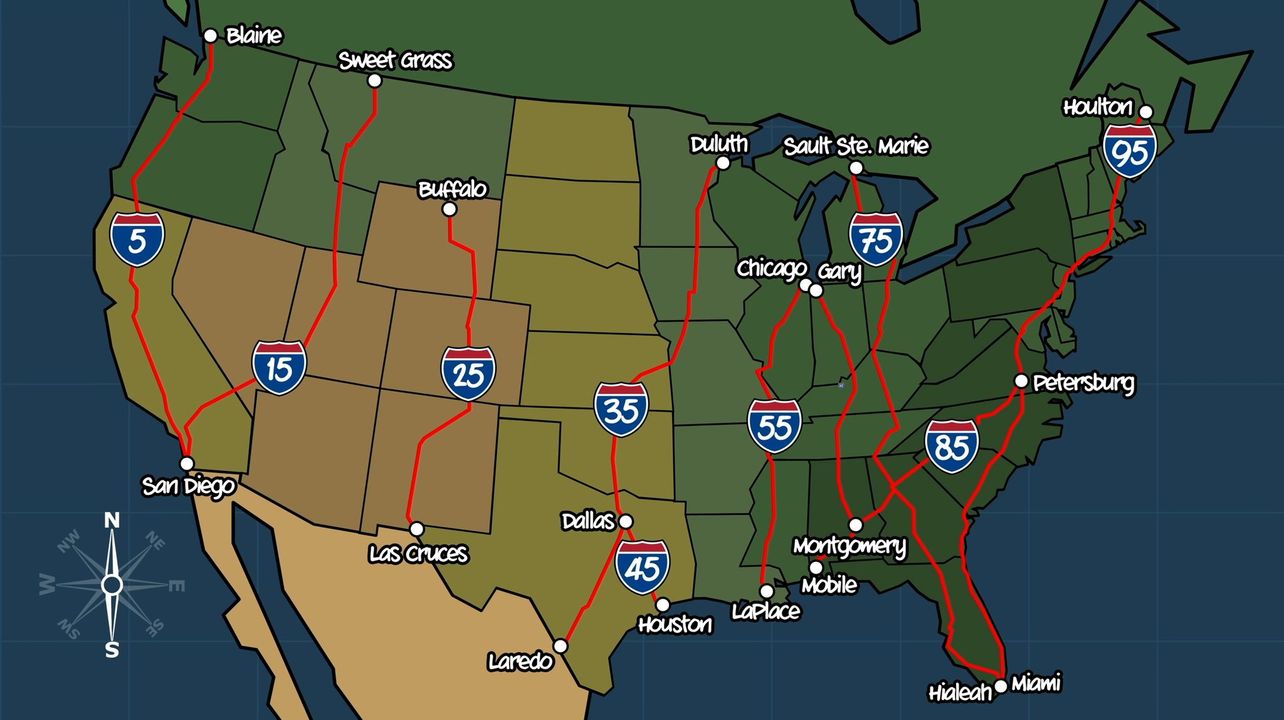 Refueling and ReCharging
The number of Tesla Supercharger locations jumped to 2,966 in Q2 2021 from 1,587 at Q1 2019:

A map of stations offering Ethanol-free premium gasoline (at higher prices) is at pure-gas.org/extensions/map.html. My wife used it to figure out where I should stop along a route from Florida to Montana. It was difficult because we had to figure out where I was on the website's map. She also had to calculate how much further I could go with remaining gas. Somehow we managed to stay married after that.
National Parks
America's greatest treasure is the 63 national parks managed by the U.S. National Park Service.
The map above is missing White Sands National Park (New Mexico), Indiana Dunes, and Gateway Arch (St. Louis).
One couple visited the most significant parks in this order:
The above route through major landmarks in the lower 48 states was optimized for least driving time across 6,813 miles, using Google Maps API driven by Machine Learning algorithms run in a Python Jupyter Notebook as described by Randal S. Olson.
CAUTION: as COVID lockdowns relax, reservations are at all-time highs at recreation.gov/, KOA, ReserveAmerica.com, and state camping sites.
Many "Western" movies were filmed in iconic "Mighty 5" parks below Salt Lake City in Utah: Las Vegas from the South and Denver from the North
322 miles in 5 hours without stopping (click for Google Map):
Zion
Capital Reef
Arches
Canyonlands


Civil War Confedrates
When the Civil War ended in 1865, The Confederacy included the 11 Southern states of Texas, Arkansas, Louisiana, Tennessee, Mississippi, Alabama, Georgia, Florida, South Carolina, North Carolina, and Virginia.
The 5 "Border States" were Maryland, Delaware, West Virginia, Kentucky, and Missouri, where "brother fought brother".
States in white (Oklahoma) did not fight for either side. Idaho volunteers did not fight against the Confederacy. Areas in Arizona and New Mexico were claimed by both sides.
---
Down the Atlantic Eastern Seaboard
This is where the United States of America began as colonies of England.
Freedom Ride
The planned route of the courageous Freedom Ride May 1961 through the "Jim Crow" South to test a Supreme Court ruling against "whites-only" restrooms and lunch counters at bus stations:
The Woolworth lunch counter in downtown Greensboro, NC is now a museum.
The ride stopped on May 14 in Anniston, Alabama where the bus was burnt by segregationists.
Maine
New Hampshire
Massachusettes
Boston:
Cambridge (North of Boston):
Harvard University Art Museums, Cambridge
Fogg Art Museum
MIT Museum
Arthur M. Sackler Museum
Henry Wadsworth Longfellow House, Cambridge, Massachusetts
Western Mass Turnpike 90:
Edith Wharton's The Mount, Lenox
Museum of Bad Art, Dedham
McMullen Museum of Art at Boston College, Chestnut Hill
Davis Museum and Cultural Center at Wellesley College, in Wellesley, MA
Danforth Museum of Art, Framingham
Norman Rockwell Museum, Stockbridge
Mount Holyoke College Art Museum, South Hadley
Berkshire Museum, Pittsfield
Herman Melville's Arrowhead, Pittsfield
Dr. Seuss Memorial, Springfield
Site of Thoreau's Cabin, Walden Pond, Concord
Wayside (home of Nathaniel Hawthorne, Louisa May Alcott, and Margaret Sidney), Concord
Ralph Waldo Emerson Home, Concord
Louisa May Alcott's Orchard House, Concord
Northward Mass up 95:
SouthEast of Boston on 3 to the tip:
Western Mass up 91:
Southern Mass:
Rhode Island
Connecticut
Mark Twain House and Museum, West Hartford [1]
Harriet Beecher Stowe Home, West Hartford
Wadsworth Atheneum, Hartford
Hill-Stead Museum, Farmington
Davison Art Center at Wesleyan University, Middletown
Florence Griswold Museum, Old Lyme
Mattatuck Museum, Waterbury
Yale Center for British Art, New Haven
Yale University Art Gallery, New Haven
Housatonic Museum of Art, Bridgeport
Aldrich Museum of Contemporary Art, Ridgefield
Bruce Museum of Arts and Science, Greenwich
New Jersey
New York
New York City (Manhattan)
Metropolitan Museum of Art and the Cloisters
American Museum of Natural History
Gallery of Modern Art
GONE: Museum of Holography
Solomon R. Guggenheim Museum, with Guggenheim.com for motorcycles and Guggenheim.org for environmental art
Museum of the American Indian
New York City (Brooklyn)
DUMBO = Down Under the Manhattan Bridge Overpass is home to 25% of New York based tech firms, including Etsy. [tour]
Walk the Brooklyn Bridge
River Cafe (Jackets required of men)
Pennsylvania
Philadelphia:
Franklin Institute Science Museum
Mütter Museum [weird] 19 S. 22nd St. 19103
Academy of Natural Sciences
Barnes Foundation Collection, Merion
Museum of American Art
University Museum of Archaeology and Anthropology


Ristorante Pesto
Zahav restaurant of Israeli cuisine, Philadelphia
Pittsburgh:
Carnie Museum of Natural History
Delaware
Maryland
Washington DC
Dumbarton Oaks Collection
Freer Gallery of Art
National Air and Space Museum
National Archives, 700 Pennsylvania Ave. 202-357-5000 See the US Constitution, Bill of Rights and the Declaration of Independence. But the Emancipation Proclamation is open to the public just 4 days a year around MLK Holiday Jan. 13-16 Friday-Monday 10 a.m.-5:30 p.m.
Phillips Collection 1600 21st Street, NW 20009 Closed Mondays
US Holocost Memorial Museum 10-5:30 every day, but timed passes are necessary for visiting the permanent exhibit (20 each day from tickets.com for $1.75)
White House, 1900 Pennsylvania Avenue
West Virginia
Virginia
Williamsburg:
North Carolina
Biltmore Estate, the largest privately-owned house in America, built by George Vanderbilt, Asheville
In Asheville, the fanciest McDonald's in America (with a piano and fireplace)
Lantern restaurant, Chapel Hill
Duke University Museum of Art, Durham
Guilford College Art Gallery, Greensboro
Mint Museum of Art, Charlotte
Contemporary Art Museum, Raleigh
Reynolda House Museum of American Art, Winston-Salem
Southeastern Center for Contemporary Art (SECCA), Winston-Salem
Wake Forest University Art Collections, Winston-Salem
South Carolina
Georgia
Atlanta:
Florida
St. Petersberg Northwest on 75 up the Gulf coast
John and Mable Ringling Museum of Art, Sarasota
Fort Myers Edison Winter Home
Bern's Steak House, Tampa
Florida International Museum, St. Petersburg
Museum of Fine Arts, St. Petersburg
Salvador Dalí Museum, St. Petersburg
Florida State Museum, Gainsville
Harn Museum at the University of Florida, Gainesville
Appleton Museum of Art, Ocala
Mary Brogan Museum of Art and Science, Tallahassee
Florida State University Museum of Fine Arts, Tallahassee
NASA Kennedy Center, Merritt Island
South down the East coast
Cummer Museum of Art and Gardens, Jacksonville
St. Augustine?
Ormond Memorial Art Museum and Gardens, Ormond Beach
Museum of Arts and Sciences, Daytona Beach
Southeast Museum of Photography, Daytona Beach
Cornell Fine Arts Museum at Rollins College, Winter Park
Morse Museum of American Art, Winter Park
Disneyworld EPCOT, Orlando
Brevard Museum of Art and Science, Melbourne
International Museum of Cartoon Art, Boca Raton
Museum of Discovery and Science, Fort Lauderdale
Palm Beach Institute of Contemporary Art, Lake Worth
Hibel Museum of Art, Lake Worth
Morikami Museum and Japanese Gardens, Delray Beach
Polk Museum of Art, Lakeland
Miami:
---
Down the Mississippi River
At 2,300 miles, the Mississippi River is the 4th longest in the world (after Nile, Amazon, Yangtze). It's part of the largest watershed in the world.


VIDEO: "It's inevitable that the US emerged as a global superpower": the Missisippi is the longest navigable river in the world, enabling inland cities to be oceanic ports serving world markets by boat (10-39X cheaper than by road).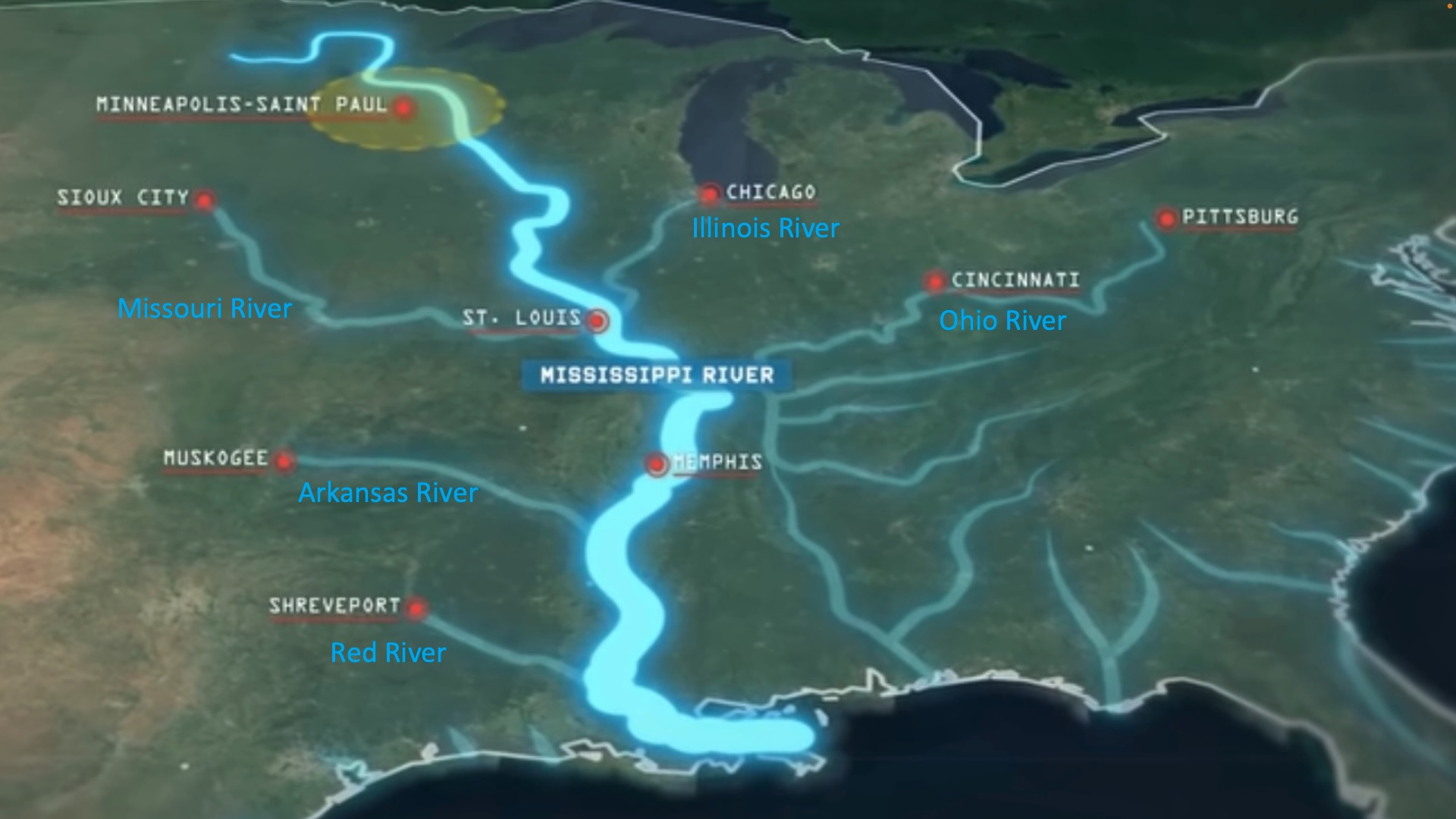 It takes 8 days for the "America Heartland" cruise between St. Louis and to St. Paul (waterfalls at the head of the Mississipi):


Cruise on a riverboat between New Orleans and Memphis, with stops in the Vicksburg battlegrounds. on Viking or the "American Countess".


Cruise from Chicago to St. Louis down the Illinois River.
Illinois
Chicago:
Missouri
Kansas City:
St. Louis:
Tennessee
Nashville:
Memphis:
Arkansas
Mississippi
Louisiana
Alabama
---
Northward on Cattle Drives
The TV series "1883" is about one of the cattle drives that brought Texas back from economic collapse after the end of the Civil War in 1865. The drive went from Fort Worth North toward Montana and Portland. Although a fictional story, the script mentions real locations: Doan's Store Red River Crossing, established 1878 along the Western Trail to Dodge City, Kansas where trains carried cattle East.
In 1881 the Doan's Cross reached a peak of 301,000 cattle driven by to Kansas shipping points. This was before the "Chisolm Trail".
In 1884 an annual picnic, celebrating the cattle drives and cowboy tradition, began near Doan's Store.
In 1885 long cattle drives was eliminated by both the construction of railroads across north Texas and the fencing of the West using newly invented barbed wire.
The TV series "Lonesome Dove", is set in late 1870s. Just like the "1883" TV series, it is also about cowboys seeking to drive cattle North to settle along Montana's Yellowstone River. Several other movies have characters doing the same.
Westward on land
"Go West, young Man, and grow up with the country!" is the advice widely (but wrongly) attributed to New York Tribune Publisher Horace Greeley, who visited the West only once.
The Pony Express
80 Pony Express riders (who include Calamity Jane) traveled day and night to deliver mail from St. Joseph, Missouri on the Missouri River to San Francisco, California in only 10 days rather than the previous 24 days. They carried news of the volatile time leading up to the Civil War.

Photo source: Wikimedia.
The riders can run at full gallop along their 1,900-mile (3,100 km) route because they switch horses waiting at each of 184 stations, each about 10-15 miles apart.
But their service lasted for less than 2 years – from April 3, 1860 to October 24, 1861 – due to the availability of the electric telegraph along railroads.
Westward from Vermont to Kentucky
Vermont
Upstate New York
Albany/Rochester:
Adirondacks
Buffalo:
Michigan
Detroit
Ohio
Cincinnati:
American Neon Sign Museum</a>
Creation Museum (is closest to the Cincinnati airport)
Ark Encounter (44 miles South in Kentucky from the Creation Museum)
Cleveland:
Indiana
Indianapolis:
Kentucky
---
Down the Pacific West Coast
Alaska
NOTE: Driving from Alaska to Washington state requires travel through Canada.
Washington
Spokane:
Seattle:
Oregon
California
San Francisco Bay:
San Jose:
Santa Barbara (Central Coast):
West Side, Los Angeles:
Downtown Los Angeles:
East Los Angeles:
South Bay, Long Beach:
Orange County:
Inland Empire:
San Diego:
Hawaii
Just so we include all the states:
---
Westward through Northern states
Going from New York City to Seattle takes 2,852-miles on Interstates 80 and 90, crossing 11 states.
Northern Rail
Amtrak's Empire Builder train between Chicago to Seattle and Portland takes 46 hours.
Amtrak's California Zephyr (named after the Greek god of the Western wind). VIDEO: from Chicago to Emeryville (San Franciso) – 2 nights through 7 states: Naperville, Galesburg, Omaha, Denver (a one hour stop) over the mountains to Grand Junction, Reno, Truckee, Salt Lake City. With no wi-fi between stations.
Lewis and Clark Trail Westward Ho
The Lewis and Clark Expedition of 1804 to 1806 is an 8,000-mile trip to the Pacific (Portland, Oregon) returned with maps and scientific specimens for President Thomas Jefferson.
The Lewis and Clark Trail today is a set of hiking trails. "Wm Clark" carved "July 25, 1806" on "Pompey's Pillar" 30m miles East of Billings, Montana.
The "Corps of Discovery" emboldened wagon trains traveling Westward through Northern United States.
Oregon Trail to the Pacific
The Oregon Trail was established during the 1830s by mountain men in their fur trade, before motorized transportation. It favors valleys to minimize going over mountains:
The trail begins from St. Louis and Independence, Missouri through Kansas and Nebraska to Fort Laramie, Wyoming (1834-1890). It then goes through Boise, Idaho to Portland, Oregon. A map of the trail in 1907:
Kansas
Iowa
Wisconsin
Milwaukee:
Minnesota
Duluth (North coast of Lake Superior)
Minneapolis:
St. Paul:
Nebraska
South Dakota
North Dakota
Montana
Idaho
---
Westward through the Southwest
Route 66
VIDEO: Route 66 was one of the original highways within the U.S. starting in 1924. Thus its colloqual name the "Mother Road". It served as a military transport corridor during WWII. In post-war years, motels, diners, and gas stations along Route 66 became popular vacaction destinations.
Route 66 begins on Michigan Avene in Chicago, where you can eat at Lou Mitchell's diner. The route goes to St. Louis, Missouri, then through smaller road-side towns on the way to Tulsa and Oklahoma City, Amarillo TX, Alberquque New Mexico, then over mountains to Flagstaff AZ before ending on the Santa Monica pier in Los Angeles, California.
However, interstate freeways built from 1956 enabled travel without the need to slow down through towns. That bypassed small businesses along Route 66.
Chisolm Trail
The Chisolm Trail was used between 1867-1884 to drive cows to market from various cowtowns in Texas through Oklahoma Indian Territory to Abilene and other railheads in Kansas. The Lonesome Dove TV series depicts that time.
Since Illinos and Missouri are already listed in our Mississippi route, here we begin from Oklahoma and take a long detour North to avoid too much desert along the way.
Oklahoma
Texas
Dallas:
Austin:
Houston:
New Mexico
Santa Fe:
Taos:
Colorado
Denver:
Wyoming
(Southern Idaho)
Utah
Arizona
Nevada
All the sights
In addition to "museums", also included here are grand natural sights:
Technical Footnote
This rather large list was originally created to be intentionally large in order to test how well the system handles a large file (how quickly it can download and display).
This is an upgrade of my terrible Roadtrips to visit museums across the USA from 2005.
Next, I'd like to display a Google map of coordinates from a public Google spreadsheet like Jessica Lord's hack-spots site implemented from a github repo which uses the sheetsee.js and Mapbox libraries.
"I haven't been everywhere, but it's on my list." – Susan Sontag
---