Offices, Financials, Social media, Communities, Events, Dreamforce, Dreamoji, Store
This page presents steps and information for those new to Salesforce to get "plugged in" quickly and fully.
"Ohana" is the Hawaiian word for "family". Salesforces uses the Twitter hash tag #SalesforceOhana to describe the inclusive culture it's desirable to foster. Thus the Hawaiian (Polynesian) decorations and musician at events.
PROTIP: The Hawaiian word "Aloha" (meaning both hello and goodbye), has been applied to the feature of Salesforce that, rather than failing installation, allows installation of a package even though it has reached its maximum number of Custom Objects.
Office Locations
The Salesforce corporate address is "The Landmark @ One Market, San Francisco, California".
The Salesforce Tower (@SalesforceTower) delivered May 2018 is the tallest building not just in San Francisco but everywhere West of the Mississipi – a few feet taller than the Eiffel Tower in Paris:
In other words, Salesforce literally "towers above" all other tech companies in San Francisco. Dreampitches are done in the 40 seconds to the 61st floor "Ohana Floor" observation area for non-profits. Beginning Feb 23, 2019, tours there are offered once a month on Saturday for groups of 50 for an hour.
Click this picture to see a video of the lobby's amazing wall-to-wall video wall: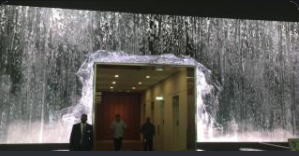 Designed by Pelli, Clarke, Pelli Architects, the top 6 stories is lit by 11,000 LEDs programmed by artist Jim Campbell.
The tower is built on top of former landfill in an earthquake-prone area. And it's certified LEED Platinum – the highest rating in the US. It's on Mission between Freemont and 1st (South of the Montgomery BART station), a part of a whole downtown $6 billion re-development that includes the 5-acre Salesforce Park above the Transbay Transit Center public transportation hub.
BTW Benoiff has been working with the city and other businesses to get all 6,500 homeless people off the streets of San Francisco. Benoiff has goaded other tech firm billionaires about their contributions.
https://www.salesforce.com/company/locations lists all locations Salesforce is located.
Financials
Salesforce has not been profitable historically, but its market value (stock price x shares) is among the fastest growing companies. The company has seen a consistent growth rate of 35% year-over-year, unrivaled in the stock market:
Microsoft's $50 billion offer was once rejected.

The prediction was for a buyout/merger with Oracle, where Salesforce CEO Benoiff had worked.



Trail: Innovation the Salesforce Way [4 hrs 20 mins]
Stay Informed on Social Media
reddit.com/r/salesforce/ subreddit is very active.
Salesforce Study Group on Discord mobile app "Chat for Gamers". Click the (+) icon and paste in "https://discordapp.com/invite/S4HhsyG".
Podcasts
PROTIP: Drive a lot? Take public transportation? Listen to voice-only podcasts while commuting:
The Marketing Cloudcast has 99+ episodes since Oct. 2016 on Google Play. It "offers key marketing campaign tactics, popular trends, interviews with marketing leaders, and relevant insights — such as social media stats and data management strategies in marketing today. Hosts Megan Collins ( @CollinsMeMegan) and Tina Rozul (@crozul) dive into topics such as performance on individual marketing channels, marketing career advice, the future of marketing, and beyond.

PODCAST about presenters at Salesforce Dreamforce conferences: Blazing Trails since July 2017 on iTunes and SoundCloud.com.

PODCAST: The Quotable Sales Podcast by Quotable.com since July 2016 on iTunes and Google Play by Megan Collins and Tina Rozulle.
Salesforce employee teams
Here are the social media channels controlled by various teams within Salesforce:
Salesforce Admin Relations Team of evangelists: (email: buttonclickmike@salesforce.com)
Salesforce Developer Relations Team of evangelists: (email: developer@salesforce.com)
Salesforce Engineering team:
Salesforce Product Documentation team:
Salesforce Customer Success team (in the Success Cloud) who helps paying teams up and running:
Salesforce Success Community https://success.salesforce.com/
Salesforce Trailhead team:
https://www.linkedin.com/company/salesforce-trailhead/
Salesforce Certification Group:
Salesforce.org for non-profits:
Salesforce, as a company, pioneered the 1:1:1 model, donating one percent of its time, equity, and product to non-profit organizations via the salesforcefoundation.org
http://www.salesforce.org/contact-us/ to join mailing list
https://www.instagram.com/SalesforceOrg/
Chatter
Success Communities
NOTE: https://trailblazer.salesforce.com resolves to https://success.salesforce.com/
LinkedIn Groups
From: https://www.salesforceben.com/the-linkedin-guide-book-for-trailblazers/
Trailhead communities online
https://trailblazercommunitygroups.com/
https://trailhead.salesforce.com/community/students for students in accredited schools
https://toptrailblazers.com/c/ lists communities.
MVP Office Hours #MVPOHMeeting 1st & 3rd Fridays #MVPOHQuestion
https://www.facebook.com/ServiceCloud/?ref=timeline_chaining
https://www.facebook.com/MarketingCloud/
Financial Services Cloud Community
Pardot B2B Marketing Automation
https://www.facebook.com/sfdcpoint
Mascots
The "NO SOFTWARE" mascot, called Sassy (@TooSaaSy, #WhereIsSasSy), is the original mascot for Salesforce. The company's main number is still 800.NO-SOFTWARE.
Astro, created by Rochelle Truong in 2015, is the racoon in a spacesuit.
The goat is called Cloudy.
Einstein is the mascot of the Salesforce Artificial Intelligence platform. BTW, the likeness to Albert Einstein is owned by Hebrew University in Israel.
The bear is called Codey.
The owl is called Appy. She is associated with AppExchange.
See Kim Shain's slidedeck about mascot branding guidelines.
Dreamoji
The Dreamoji app provides a custom keyboard containing Salesforce emojis you can insert into messages, tweets, etc.
On your iOS device, search for Dreamoji, then Get it.
After it loads, in you iPhone Settings app, General, Keyboard, Keyboards, select "Dreamoji", enable "Allow Full Access".
When Messaging, click the happy face icon to the right of the text entry field.
On your Android, see https://t.co/UzK0VF7e9G
Store
Miss being at a Salesforce event? Buy the branded clothing, office supplies, electronics, all 129+ products for sale at
PROTIP: Ironically, the site is not built as a Commerce Cloud website (uses ASP.NET and jQuery).
More about Salesforce
This is one of a series about Salesforce
---