What is your team's maturity at adopting best practices? Here is the comprehensive industry-standard framework from Amazon, Microsoft, and Google
This aims to be a succinct yet deep dive about the "mind sets" needed by IT teams in the cloud.
NOTE: Content here are my personal opinions, and not intended to represent any employer (past or present). "PROTIP:" here highlight information I haven't seen elsewhere on the internet because it is hard-won, little-know but significant facts based on my personal research and experience.
Like ITIL, PMI, SAFe, etc., the Well-Architected Framework provides "industry-standard" common terminology for concepts.
Knowledge about WA (best practices) is tested for in AWS certification exams.
AWS organized their hands-on tutorials to each of the WAF Pillars in their WellArchitectedLabs.com. Each tutorial shows only how AWS tools are used (Cloud9, CloudFormation, etc.). This is how Amazon get people to use their tooling rather than alternatives such as Terraform, Vault, etc.
Vendors offering alternative tools would need their own tutorials on their own websites.
What is it? Overview
On the surface, the "Well Architected Framework" (WAF) is a bunch of open-ended questions such as:
How do you manage permissions for people and machines?


But each question is a rephrasing of a best practice category such as:
Manage permissions for people and machines


For each question are considerations such as:
Define access requirements
Grant least privilege access


Considerations include specific recommendations such as:
Have a clear definition of who or what should have access to each component, choose the appropriate identity type and method of authentication and authorization.
Grant only the access that identities require by allowing access to specific actions on specific AWS resources under specific conditions.


PROTIP: To self-designate your organization and systems assets "Well Architected By Design (WABD)", convert WAF recommendations into verifiable statements.
Our __ document defines who or what should have access to each component, which specifies the appropriate identity type and method of authentication and authorization.
We use Consul's ACL features to grant only the access that identities require by allowing access to specific actions on specific resources under specific conditions.


Such statements – and evidence that prove their actual usage over time – can then be used as the basis for obtaining annual attestations from auditor based on SOC2, ISO 2700, FedRamp, etc.
WAF questions are grouped into several "pillars" which comprehensively cover all major aspects of Information Technology in the cloud, not just security. And WAF covers the entire lifecycle of apps and data.
Why?
Why? Potential benefits sound like what is claimed for every product:
Build and deploy faster
Lower or mitigate risks
Make more informed decisions
Learn best practices
Improve the quality of workloads


https://www.effectual.com/5-reasons-your-development-team-should-be-using-the-well-architected-framework/
Pillars of the framework:
The five pillars are listed here discussed below.
Click each pillar name link to go to contents about that pillar. (Note that "you" and "your" have been removed from text by AWS):
PROTIP: "CROPS" is a mnemonic to make the 5 easier to remember.
Those core 5 is the rare occasion when it's what major cloud vendors all agree on.
Additional pillars added by individual vendors:
6. SUST = Sustainability (only by AWS) for "Minimizing the environmental impacts of running cloud workloads. It includes a shared responsibility model for sustainability, understanding impact, and maximizing utilization to minimize required resources and reduce downstream impacts". Examples are stopping over-provisioning, using more efficient Gravaton (non-x86) CPUs, etc.

6. Google adds its own "System Design" pillar.
ACTIVITY 1 - Rank the pillars
Have each member of your team do a mental exercise to prioritize the pillars as the basis for a discussion, as a team. (Why? The Dunning-Kruger effect). Example realization from this exercise:
PROTIP: "Operational Excellence" has to go first because that's provides the fundamentals of getting up and running with basic services.

"Security" has to go first because we don't want to have the risk of anything exposed and thus ruin our brand.

Let's not slow ourselves down with Cost considerations when getting started.

PROTIP: It's really not appropriate to rank these pillars. They need to be done pretty much in parallel. So we need to look in each and prioritize the impact of tasks within each pillar.
QUESTION: Is it appropriate to assign a leader/team to be responsible for each separate pillar?
WAF AWS Mind Map
Click twice on individual item for the AWS web page on it: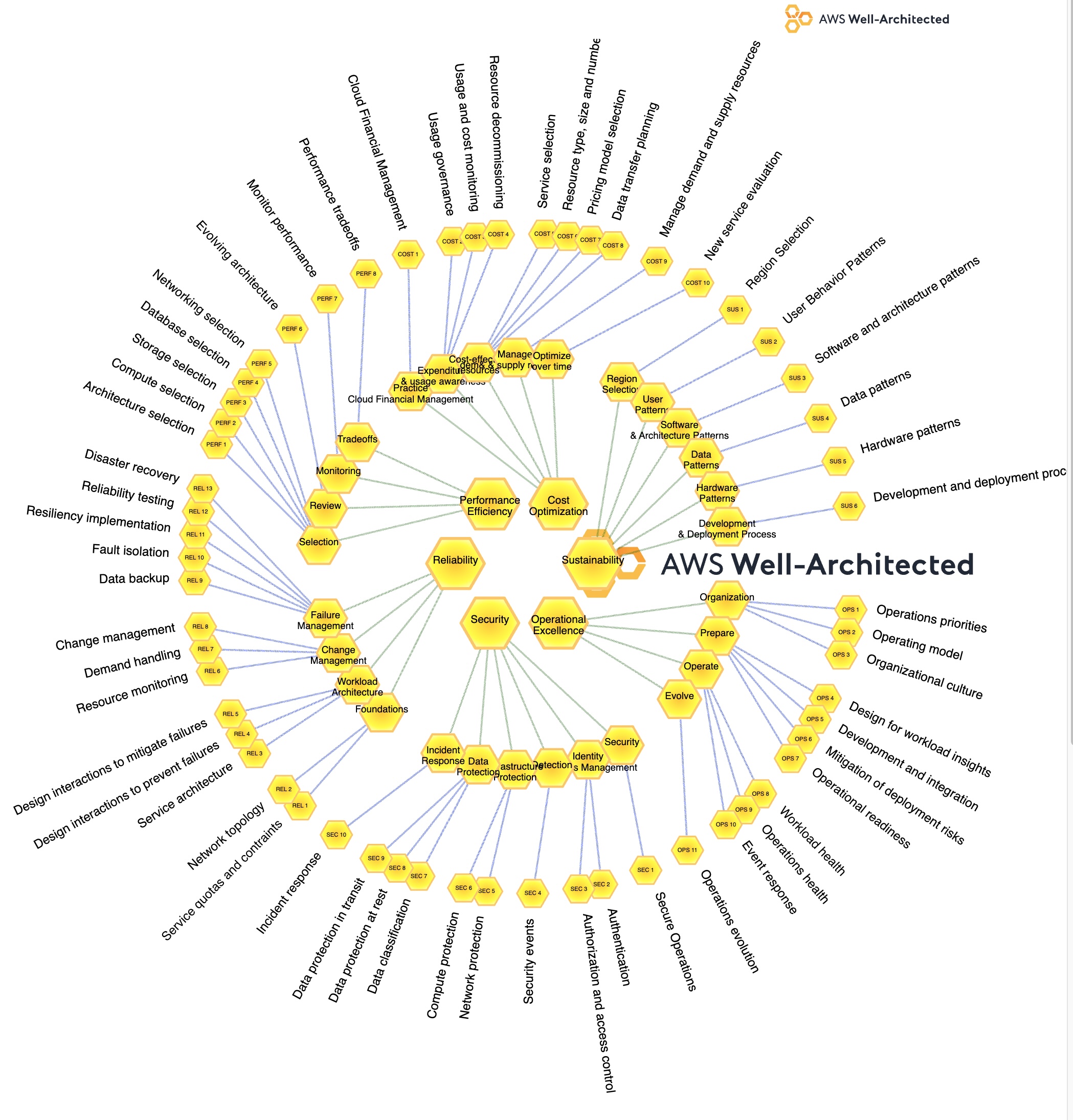 Your Radar Chart of Progress:
PROTIP: To visualize (provide a mental picture of) progress toward using public cloud effectively, I created this sample Radar Chart within an Excel file I built:
The position of each pillar can be changed.
The percentage for each "pillar" category is based on what has been achieved Now: (the inner blue line) and the Next: target (the outer red line).
The gaps (delta) between "Now" and "Next" are addressed by a backlog of activities designed to reach higher organizational and systems capability at building and operating systems using shared public clouds.
Percentages in the Radar Chart are based on a consistent and comprehensive set of design principles and best practices defined in the "Well-Architected" (WA) Framework.
The Well Architected Framework is really an industry standard because it is referenced by Amazon, Microsoft, and Google:
https://aws.amazon.com/blogs/architecture/use-templated-answers-to-perform-well-architected-reviews-at-scale/
https://github.com/aws-samples/aws-well-architected-tool-template-automation
Common definitions:
Make sure everyone has a common understanding of each word:
Each "workload" is "a collection of interrelated applications, infrastructure, policy, governance, and operations running on AWS that provides business or operational value". A workload can span several AWS accounts.
A "technology portfolio" is the collection of workloads that are required for the business to operate.
A "component" is the code, configuration, and resources that together deliver against a requirement. A component is often the unit of technical ownership, and is decoupled from other components.
The "architecture" is how components work together in a workload, usually illustrated by architecture diagrams that show how components communicate and interact.
The "organization" refers to the people in the hierarchy of reporting relationships. The "AWS Organization" refers to the top- Organization setting, with special permissions to an administrator of it.
Runbooks are predefined procedures containing the minimum information necessary to successfully perform the procedure.
Playbooks document the investigation process - the predefined steps to gathering applicable information, identifying potential sources of failure, isolating faults, or determining the root cause of issues.
WA Assessment Tools
Both Microsoft Azure and Amazon AWS have an assessment tool based on WAF.
Amazon's Tool is operated by specialists who run an analysis of resources defined for each account.
Microsoft's tool is also based on what has been configured in its Azure cloud. But its results are displayed automatically on every login unless it's turned off.
https://www.sogosurvey.com/
Microsoft Azure Advisor
Microsoft's Advisor tool under its "Azure Monitoring and Management" menu pane presents a dashboard to display scores calculated daily:
Azure Advisor automatically identifies low-utilization virtual machines when:
Average CPU utilization is 5% or less (custom configurable to 5%, 10%, 15%, or 20%)
network utilization is less than 2%
current workload can be accommodated by a smaller virtual machine size.


AWS partner dashbird.io
Amazon partner dashbird.io/ (for $79/mo. after 14 day trial) continuously runs multiple best practice checks against serverless workloads, to provide actionable advice on how to improve the applications in alignment with Well-Architected best practices.
AWS WA Assessment Tool
VIDEO:
Get credentials to sign into AWS GUI console and AWS CLI.

In a browser, go to the (free) AWS WA Tool (introduced 2018) provides a set of questions (context) and best practices:

Click orange "Define workload".

Specify a name for the workload under assessment. If you're using a shared account, enter your name such as:

wilson's all xxx workload

The "xxx" stands for the list of AWS account numbers specified for this assessment.

Click "Well-Architected Framework" to get to the content of questions and answers.

One pillar at a time, in the priority identified, select each question, then select applicable items.
BLOG: APIs now available for the AWS Well-Architected Tool
https://aws.amazon.com/blogs/architecture/use-templated-answers-to-perform-well-architected-reviews-at-scale/
https://github.com/aws-samples/aws-well-architected-tool-template-automation
### AWS Lenses
If applicable, select a lens (listed alphabetically here) to reveal additional terms, processes, etc.:

The Machine Learning Lens breaks down process lifecycle phases in this Lifecycle architecture diagram:

Business goal identification
ML problem framing
Data processing (Prepare and Process Data Features)
Model development (Train, Tune, Evaluate)
Deployment
Monitoring


Microsoft Training on WA
Microsoft Azure Well-Architected Review provides guidance by pillar.
AWS Milestones
The AWS WA Tool has a way to save several milestones to show an annotated line chart about progress over time.
But note that it's for work across all pillars together, not for individual pillars.
---
AWS Cloud Adoption Framework
AWS Cloud Adoption Framework (AWS CAF) discusses these (yet another set of) perspectives:
Business
People
Governance
Platform
Security
Operations


---
General Design Principles
AWS published these General Design Principles:
Stop guessing capacity needs - if you make a poor capacity decision when deploying a workload, the team might end up sitting on expensive idle resources or dealing with the performance implications of limited capacity. With cloud computing, these problems can go away. Use as much or as little capacity as needed, and scale up and down automatically.

Test systems at production scale - In the cloud, a production-scale test environment can be created on demand, complete testing, and then decommission the resources. Because payment is only for the test environment when it's running, you can simulate live environments for a fraction of the cost of testing on premises.

Automate to make architectural experimentation easier (everything in AWS is an API) - Automation allows you to create and replicate workloads at low cost and avoid the expense of manual effort. You can track changes to the automation, audit the impact, and revert to previous parameters when necessary.

Allow for evolutionary architectures - In a traditional environment, architectural decisions are often implemented as static, onetime events, with a few major versions of a system during its lifetime. As a business and its context continue to evolve, these initial decisions might hinder the system's ability to deliver changing business requirements. In the cloud, the capability to automate and test on demand lowers the risk of impact from design changes. This allows systems to evolve over time so that businesses can take advantage of innovations as a standard practice.

Drive architectures using data - In the cloud, you can collect data on how architectural choices affect the behavior of workloads. This enable fact-based decisions on how to improve workloads. Cloud infrastructure is code, so that data can be used to inform architecture choices and improvements over time.

Improve through "game days" (dry-run simulation, chaos engineering, etc.) - Test how architecture and processes perform by regularly scheduling game days to simulate events in production. This will help you understand where improvements can be made and can help develop organizational experience in dealing with events.
But what are specific actions?
AWS Skillbuilder video courses are rather verbose and high-level, but provides knowledge checks (quizzes).
---
AWS Well-Architected Labs
Specific hands-on labs from https://wellarchitectedlabs.com built (using Hugo) from https://github.com/awslabs/aws-well-architected-labs for each pillar (links to details in each section):
AWS provides its partners in-depth training on the Well-Architected Framework so they help companies implement best practices, measure the state of workloads, and make improvements where assistance is required.
AWS' WellArchitectedLabs.com provides dozens of labs refered in AWS Certification Exam prep and in security quests referenced during free Loft live sessions AWS runs for Startups
Video tutorials on third-party subscription sites:
PROTIP: Complaints about AWS' Well Archtected Labs are that they:
have instructions which require Admin permissions not available to some enterprise users
have too many instructions for clicking and typing in GUI forms instead of automated actions performed by scripts (such as these steps to create VPCs in 3 AZs) instead of shell scripts
reference AWS' CloudFormation templates (such as this 2138-line vpc-alb-app-db.yaml file) as Infrastructure-as-Code (for better repeatability, collaboration versioning, security, etc.) instead of HashiCorp Terraform files


Thus, items below have [Terraform] links to Terraform HCL (plus Bash shell scripts and Ansible, where applicable).
Each link will go to a web page containing a Twitch-type Zoom recording walking through the steps, then showing the equivalent Terraform.
PROTIP: We analyze utilities Google's terraformer and cloud diagram creator Cycloid's terracognita which create Terraform files based on what has been created in AWS ("reverse Terraform"). Wisdom Hambolu analyzes use of a utility that attempts to convert Cloud Formation to Terraform, with mixed results.
href="https://spacelift.io/blog/importing-exisiting-infrastructure-into-terraform">
https://github.com/aws-samples/aws-well-architected-tool-template-automation
Operational Excellence Labs
---
"Blue Car" Sample App
STAR: Follow these instructions to deploy Amazon's "Blue Car" sample app from an Amazon Cloud Formation template. It is a "JAM" stack app where JavaScript in each user's browser interacts with a public API Gateway to a backend API built using Lambda:
Amazon Cloud9 IDE in the cloud

Amazon Cognito provides user management and authentication functions to secure the backend API
AWS Amplify hosts the static website with CI/CD build-in
Amazon API Gateway provides a persistence layer where data can be stored by the API's Lambda function
AWS Lambda to process requests
Amazon DynamoDB provides a persistence layer where data can be stored by the API's Lambda function.


STATUS: I've been getting an error. Maintainer Stephen Salim contacted for below: Use this stack.
---
Security pillar
References:
The broad security areas:
Identity and access management
Infrastructure protection
Data protection: sovereignty and encryption
Incidence response
Application security
Security resources


Key Design principles for security in the cloud:
Implement a strong identity foundation
Enable traceability

Apply security at all layers (levels)

Automate security best practices
Protect data in transit and at rest
Keep people away from data

Prepare for security events (incident response)

Identify and validate control objectives
Automate testing and validation of security controls in pipelines


---
Best practice categories for Security:
Questions and Considerations for Security:
1. How do you securely operate each workload?
2. How do you manage identities for people and machines?
3. How do you manage permissions for people and machines?
4. How do you detect and investigate security events?
5. How do you protect network resources?
6. How do you protect compute resources?
7. How do you classify data?
SEC-07-01-

Identify the data within workloads - This includes the type and classification of data, the associated business processes. data owner, applicable legal and compliance requirements, where it's stored, and the resulting controls that are needed to be enforced. This may include classifications to indicate if the data is intended to be publicly available, if the data is internal use only such as customer Personally Identifiable Information (PII), or if the data is for more restricted access such as intellectual property, legally privileged or marked sensitive, and more.

SEC-07-03-

Define data protection controls - Protect data according to its classification level. For example, secure data classified as public by using relevant recommendations while protecting sensitive data with additional controls. Automate identification and classification</strong> of data to reduce the risk of human error from manual interactions. SEC-07-02-

SEC-07-03-

Define data lifecycle management - The defined lifecycle strategy should be based on sensitivity level, as well as legal and organization requirements. Aspects including the duration you retain data for, data destruction, data access management, data transformation, and data sharing should be considered.
8. How do you protect data at rest?
9. How do you protect data in transit?
10. How do you anticipate, respond to, and recover from incidents?
---
Reliability pillar
https://wa.aws.amazon.com/wat.pillar.reliability.en.html
The ability to recover from failures and meet demand: The ability of a system to recover from infrastructure or service disruptions, dynamically acquire computing resources to meet demand, and mitigate disruptions such as misconfigurations or transient network issues.
Foundations – IAM, Amazon VPC, AWS Trusted Advisor, AWS Shield
Change Management – AWS CloudTrail, AWS Config, Auto Scaling, Amazon CloudWatch
Failure Management – AWS CloudFormation, Amazon S3, AWS KMS, Amazon Glacier
Workload architecture


Design principles for reliability:
Test recovery procedures
Automatically recover from failure
Scale horizontally to increate aggregate system availability
Stop guessing capacity (scale horizontally and veritically)
Manage change in automation


---
Best practice categories for Reliability:
Questions and considerations for Reliability:
1. How do you manage service quotas and constraints?
2. How do you plan network topology?
3. How do you design workload service architecture?
REL-03-01-

Choose how to segment workloads - Monolithic architecture should be avoided. Instead, you should choose between SOA and microservices. When making each choice, balance the benefits against the complexities—what is right for a new product racing to first launch is different than what a workload built to scale from the start needs. The benefits of using smaller segments include greater agility, organizational flexibility, and scalability. Complexities include possible increased latency, more complex debugging, and increased operational burden.

REL-03-02-

Build services focused on specific business domains and functionality - SOA builds services with well-delineated functions defined by business needs. Microservices use domain models and bounded context to limit this further so that each service does just one thing. Focusing on specific functionality enables you to differentiate the reliability requirements of different services, and target investments more specifically. A concise business problem and having a small team associated with each service also enables easier organizational scaling.

REL-03-03-

Provide service contracts per API - Service contracts are documented agreements between teams on service integration and include a machine-readable API definition, rate limits, and performance expectations. A versioning strategy allows clients to continue using the existing API and migrate their applications to the newer API when they are ready. Deployment can happen anytime, as long as the contract is not violated. The service provider team can use the technology stack of their choice to satisfy the API contract. Similarly, the service consumer can use their own technology.
4. How do you design interactions in a distributed system to prevent failures?
5. How do you design interactions in a distributed system to mitigate or withstand failures?
6. How do you monitor workload resources?
7. How do you design workloads to adapt to changes in demand?
8. How do you implement change?
9. How do you back up data?
10. How do you use fault isolation to protect workloads?
REL-10-01-

Deploy the workload to multiple locations - Distribute workload data and resources across multiple Availability Zones or, where necessary, across AWS Regions. These locations can be as diverse as required.

REL-10-02-

Automate recovery for components constrained to a single location - If components of the workload can only run in a single Availability Zone or on-premises data center, you must implement the capability to do a complete rebuild of the workload within defined recovery objectives. REL-10-02-

REL-10-03-

Use bulkhead architectures - Like the bulkheads on a ship, this pattern ensures that a failure is contained to a small subset of requests/users so the number of impaired requests is limited, and most can continue without error. Bulkheads for data are usually called partitions or shards, while bulkheads for services are known as cells.
11. How do you design workloads to withstand component failures?
12. How do you test reliability?
13. How do you plan for disaster recovery (DR)?
Ideas:
AWS Reliability hands-on labs:
---
Operational Excellence pillar
https://wa.aws.amazon.com/wat.pillar.operationalExcellence.en.html
Processes and procedures to:
Organize
Prepare - AWS Config
Operate - Amazon CloudWatch
Evolve - Amazon Elasticsearch service


Transcend challenges in traditional workplaces:
Manual changes
Batch changes
Rarely run Game Days
No time to learn from mistakes
Stale documentation


Best practices:
Monitoring and diagnostics
Design Principles for Operational Excellence:
Manual changes -> Perform operations as code
Annotate documentation (among code)
Batch changes -> Make frequent, small, reversible change
Refine operations procedures frequently
Anticipate failure
Learn from all operational failures


---
Best practice categories for Operational Excellence:
Questions and Considerations for Operational Excellence:
1. How do you determine what operational priorities are?
2. How do you structure the organization to support business outcomes?
aka the "Operating Model"
3. How does organizational culture support business outcomes?
4. How do you design workloads to understand its state?
5. How do you reduce defects, ease remediation, and improve flow into production?
6. How do you mitigate deployment risks?
7. How do you know that you are ready to support a workload?
8. How do you understand the health of each workload?
9. How do you understand the health of operations?
9. How do you manage workload and operations events?
9. How do you evolve operations?
AWS Operational Excellence hands-on labs:
---
Performance Efficiency pillar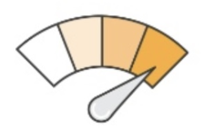 https://wa.aws.amazon.com/wat.pillar.performance.en.html
Principles:
Selection – Auto Scaling for Compute, Amazon EBS and S3 for Storage, Amazon RDS and DynamoDB for Database, Route53, VPC, and AWS Direct Connect for Network
Review – AWS Blog and What's New section of the website
Monitoring – Amazon CloudWatch
Tradeoffs – Amazon Elasticache, Amazon CloudFront, AWS Snowball, Amazon RDS read replicas.


Best practices:
Autoscaling
Background jobs
Caching
CDN
Data partitioning


Design principles for Performance Efficiency:
Democratize advanced technologies
Go global in minutes
Use serverless architectures
Experiment more often
Mechanical sympathy


---
Best practice categories for Performance Efficiency:
Questions and Considerations for Performance Efficiency:
1. How do you select the best performing architecture?
2. How do you select the compute solution?
3. How do you select storage solutions?
PERF-03-01-

Understand storage characteristics and requirements - Understand the different characteristics (for example, shareable, file size, cache size, access patterns, latency, throughput, and persistence of data) that are required to select the services that best fit the workload, such as object storage, block storage, file storage, or instance storage.

PERF-03-04-

Evaluate available configuration options - Evaluate the various characteristics and configuration options and how they relate to storage. Understand where and how to use provisioned IOPS, SSDs, magnetic storage, object storage, archival storage, or ephemeral storage to optimize storage space and performance for each workload.

PERF-03-05-

Make decisions based on access patterns and metrics - Choose storage systems based on each workload's access patterns and configure them by determining how the workload accesses data. Increase storage efficiency by choosing object storage over block storage. Configure the storage options you choose to match data access patterns.
4. How do you select database solutions?
5. How do you configure networking solutions?
How do you evolve each workload to take advantage of new releases?

PERF-06-01-

Stay up-to-date on new resources and services - Evaluate ways to improve performance as new services, design patterns, and product offerings become available. Determine which of these could improve performance or increase the efficiency of the workload through ad-hoc evaluation, internal discussion, or external analysis.

PERF-06-02-

Define a process to improve workload performance - Evaluate new services, design patterns, resource types, and configurations as they become available. For example, run existing performance tests on new instance offerings to determine their potential to improve the workload.

PERF-06-03-

Evolve workload performance over time - As an organization, use the information gathered through the evaluation process to actively drive adoption of new services or resources when they become available.

How do you use tradeoffs to improve performance?
AWS Performance hands-on labs:
---
Cost Optimization pillar
---
Google's Cost Optimization has two processes:
AWS Cost Optimization Abstract:
Practice Cloud Financial Management
Expenditure and Usage Awareness
Cost Effective Resources
Manage Demand and Supply Resources
Optimize Over Time


---
Best practice categories for Cost Optimization:
Questions and Considerations for Cost Optimization:
---
Questions lead to these goals/focus areas (and the services used to get there):
AWS Design Principles for cost optimization:
Implement cloud financial management: To achieve financial success and accelerate business value realization in the cloud, you must invest in Cloud Financial Management. The organization must dedicate the necessary time and resources for building capability in this new domain of technology and usage management. Similar to Security or Operations capability, build capability through knowledge building, programs, resources, and processes to help you become a cost efficient organization.

Functional Ownership
Finance and Technology Partnership
Cloud Budgets and Forecasts
Cost-Aware Processes
Cost-Aware Culture
Quantify Business Value Delivered Through Cost Optimization


Others:
Adopt a consumption model</a>: Pay only for the computing resources you consume, and increase or decrease usage depending on business requirements. For example, development and test environments are typically only used for eight hours a day during the work week. You can stop these resources when they're not in use for a potential cost savings of 75% (40 hours versus 168 hours).

Measure overall efficiency: Measure the business output of the workload and the costs associated with delivery. Use this data to understand the gains you make from increasing output, increasing functionality, and reducing cost.

Stop spending money on undifferentiated "heavy lifting" of data center operations like racking, stacking, and powering servers. AWS also removes the operational burden of managing operating systems and applications with managed services. This allows you to focus on customers and business projects rather than on IT infrastructure.

Analyze and attribute expenditure: The cloud makes it easier to accurately identify the cost and usage of workloads, which then allows transparent attribution of IT costs to revenue streams and individual workload owners. This helps measure return on investment (ROI) and gives workload owners an opportunity to optimize their resources and reduce costs.

Use managed services to reduce cost of ownership
Tasks:
Expenditure and usage awareness

Governance
Monitor Cost and Usage
Decommission Resources



Evaluate Cost When Selecting Services
Select the Correct Resource Type, Size, and Number
Select the Best Pricing Model
Plan for Data Transfer



Manage Demand and Supply Resources

Manage Demand – Throttling: API Gateway

Manage Demand – Buffer based: Amazon SQS (Kafka), Kinesis stream



Demand-based supply: ELB
Time-based supply: APIs and SDKs
Dynamic Supply: AWS Auto Scaling


7 hr video course "AWS FinOps: Cost Management & Optimization" by Oliver Gehrmann identified these strategies for cost optimization:
Right-sizing instances
Increase elasticity
Pick the right pricing model
Match usage to Storage costs
AWS Cost, Usage, Billing
Docs: AWS Cost & Usage Report (AWS CUR) contains the most comprehensive set of cost and usage data available.
NOTE: The AWS Pricing Calculator at https://calculator.aws/# is used to estimate costs for specific architectures. Different server types have different costs. The same services in different regions have different prices. Transfer of data between different regions incur charges.
AWS billing reports are published to an Amazon Simple Storage Service (Amazon S3) bucket.
REMEMBER: Click your name at the top bar for the menu to select "My Billing Dashboard":

"Cost Management" consists of:

Cost Explorer
Budgets
Budgets Reports
Saving Plans
Cost & Usage Reports
Cost Categories
Cost allocation tags



"Billing" consists of:

Billing
Orders and invoices
Credits
Purchase orders



In "AWS Cost Management":

Click "Cost Explorer" to launch Cost Explorer for "AWS Cost Management"

For Daily views, in preferences, check "Hourly and Resource Data" which costs more money.
---
https://www.youtube.com/watch?v=NfONXHkTefA How do I use the AWS Cost and Usage Report?
https://www.youtube.com/watch?v=gl0zpKLbRe0 AWS re:Invent 2020: Billing management and cost control by Keith Jarrett (Head of AWS Cost Management, Product Marketing and Business Intelligence)
AWS Cost Optimization: Tools and Methods to Reduce Your Spend With Us
AWS Cost Optimization hands-on labs:
---
Sustainability
AWS Sustainability hands-on labs:
Identify targets for improvement
Evaluate specific improvements
Prioritize and plan improvements
Test and validate improvements
Deploy changes to production
Measure results and replicate successes
---
Well-Architected Framework Review
Enterprise subscribers ($15,000/month) can have AWS Solution Architects (from Amazon Professional Services) conduct a "Well-Architected Review" of advice covered in the Well-Architected Framework described in this free video training and books (in pdf and Kindle).
Apptio CloudAbility
---
References
In the deprecated AWS classroom training site, curriculum?id=12049 provides a separate document/video summarizing each of the topics covered in the Well-Architected Framework:
Cost Optimization
Performance
Security
Fault Tolerance
Service Limits


https://explore.skillbuilder.aws/learn https://explore.skillbuilder.aws/learn/learning_plan/view/91/security-learning-plan
https://tutorialsdojo.com/aws-well-architected-framework-five-pillars/
STAR: https://aws.amazon.com/blogs/aws-cloud-financial-management/cost-reporting-based-on-aws-organizations-account-id-tags/
Mike's blog lists AWS whitepapers recommended per specific AWS exam.
https://www.trendmicro.com/en_us/what-is/cloud-security/cloud-architecture.html highlights considerations for Components, sub-components, etc.
https://www.trendmicro.com/en_us/what-is/cloud-security.html
https://learn.hashicorp.com/tutorials/well-architected-framework/implement-cloud-operating-model?in=well-architected-framework/com
---
More on cloud
This is one of a series on cloud computing:
---