Take my cloud … please
---
This page houses my random collection of information about comparing the various cloud services platforms: Amazon AWS vs. Google Cloud Platform vs. IBM Softlayer vs. Microsoft Azure vs. Rackspace vs. Oracle, SalesForce Heroku, SkyTap, etc.
Multi-cloud vendors include CloudFoundry, Hashicorp Terraform.
TL;DR - The biggest difference
If you write in C# on .NET, Azure is the most mature. But others are trying.
If you're looking to get a job in cloud, go for AWS because of its current market share. AWS has the most sophisticated authentication and database services.
If you're running really large loads, Google offers fast fiber networks that don't limit what large machines can achieve. Plus Google is ahead in Machine Learning with its popular Tensorflow in Python.

Google's SSD drives are expensive, though needed for speed.

AWS has matched Azure pricing, and also per-minute billing.
IBM has bare-metal machines, if that's your thing.
One cloud may cover a particular country, if you need to have that to do business there (such as Google in Belgium).


EDITOR's NOTE: This is not a complete treatment. Additional information will be added over time.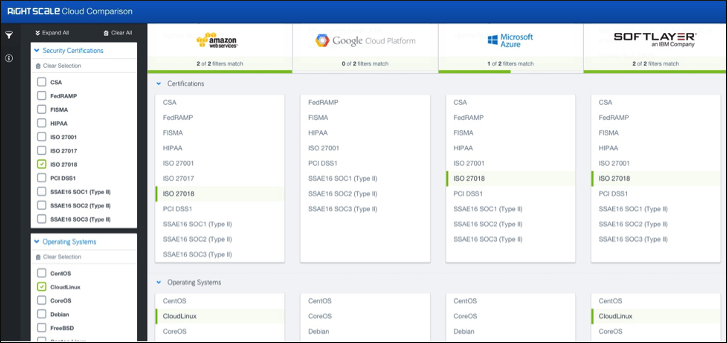 http://cloudcomparison.rightscale.com presents all the details well. DOCS So here I'm adding additional commentary here.
Additionally…
| Factor | AWS EC2 | Azure |
| --- | --- | --- |
| Initial appearance | 2006 | 2010 |
| Granularity of billing | per hour | per minute |
| Entrepreneurial Discount | - | BizSpark |
| # Data centers | 24 | 100 |
| # zones | 33 | 100 |
| Largest server | x1.32xlarge | G: |
| Largest # cores | 128 | 32 |
| Largest RAM GB | 1,952 GB | 448 GB |
Pricing
Even though cloud vendors provide a great deal of transparency to how they price their services, there are so many variables to what affects the final bill that the only accurate way is to actually run services.
Cowan analysis May 2016 (using 1.0 as average among vendors) rated Amazon 1.37 (above avarge) in prices (most expensive). Microsoft was rated the leader in price and APIs, but the lowest in support.
QUESTION: Is the comparison based on spot instances in AWS, which are of low cost because they can be taken away at any moment by someone who outbids.
Market share
Different surveys contradict each other.
Here is one:
Operating Systems in the cloud
As of May 2016, Azure works with SUSE and Oracle, but not Red Hat Enterprise Linux (RHEL).
Amazon provides software to host whatever os is put into images. But its free server images are based on CentOS.
Links to service brand names
Credit: TomsITPro and Microsoft's comparison
---
Resources
http://downdetector.com/status/aws-amazon-web-services provides 3rd-party crowd-source status.
More on DevOps
This is one of a series on DevOps:
Packer automation to build Vagrant images

Terraform multi-cloud provisioning automation
More on cloud
This is one of a series on cloud computing:
---