Take my cloud … please
Why? Advantages of Cloud
Evaluations can be based on the advantages of cloud:
Stop guessing about future capacity when building and maintaining on-premise data centers with idle over-provisioning, which can be expensive. That can't happend with cloud vendors which charge when consumed.

Tap into more capacity pooled among many customers,to benefit from economies of scale.

Paying for public cloud use as you go conserves cash up-front which trades variable expense (OpEx) for capital expense (CapEx).

Faster to obtain capacity and achieve agility. Cloud vendors can buy newer, faster equipment.

Get expert specialists at facilities, security, scalability, etc. by hiring them through cloud vendors who share their innovations.

Cloud customers' workers achieve higher productivity from more efficient up-to-date methods and by off-loading tasks to cloud specialists.

Greater reliability to make data backup, disaster recovery, and business continuity easier and less expensive, with data being mirrored at multiple redundant sites on the cloud provider's network.

Go global - make use of compute and network infrastructure established around the world (time consuming, expensive, and dangerous to do on one's own).


PROTIP: Memorize the above list for exams.
Amazon's "Well Architected" notes the constraints removed by being in the cloud:
Test production at scale
Make experimentation easier (overcome fear of change)
Allow architecture to evolve (rather than being frozen in time)
Despite all the good reasons, organization may still "drag their heels" until …
Triggers to go cloud
The need to:
Rehost (migration) ("lift-and-shift") to rehost with little code changes, to minimize application downtime.

Refactor (modernization) - transform existing apps with minimal code change to use Docker and Kubernetes, robust logging, "elastic" auto-scaling in & out, etc.

Rearchitect (modernization) - isolate application functionalities into separate microservices that can be independently deployed, tested, scaled up or down, and managed.

Rebuild (modernization) - reconstruct existing app on a new PaaS platform.

Replace (modernization) - retire existing on-premises application and rewriting functionality under a new architecture such as a Serverless or SaaS ("cloud native") application.
Individuals must pick a single cloud?
Organizations are going multi-cloud. But an individual has a limited amount of time to keep up with changes. So many individual technologists need to select the cloud vendor which provides the best career prospects. Here's my logic:
If you code in C# on .NET and want to continue leveraging that experience, Azure is the natural choice. (But other clouds are trying to support Windows.)

Azure now provides free learning instances

If you're looking for the fastest and easiest path to get a job in cloud, go for AWS because of its current market share and pace of innovation. AWS has the most sophisticated authentication and database services.

Due to competitive reasons, Target, Best Buy, eBay, and Sony Music use Google. WalMart uses Azure. Since Amazon is moving into agriculture (building urban farms to provide Whole Foods and Amazong Go stores) plus health care, established competitors in those industries would not want to use AWS.

If you're running really large loads on each server, Google offers fast fiber networks that don't limit what large machines can achieve. Plus Google is ahead in Machine Learning with its popular Tensorflow in Python.

Google's SSD drives are expensive, though needed for speed.

IBM has bare-metal machines, if that's your thing. But since 2017 AWS provides them as well.

Increasingly, companies doing business in a particular country are required to keep data within a cloud data center within that country (such as Google in Belgium).


Cloud vendor comparisons
This article compares the largest cloud services platforms: Amazon AWS vs. Microsoft Azure vs. Google Cloud Platform vs. IBM Softlayer vs. Rackspace vs. Alibaba Cloud vs. Huawei Cloud.
Major multi-cloud vendors include Oracle, SalesForce's Heroku, SkyTap, etc.
Software for private clouds include Red Hat OpenStack and VMWare.
Software for hybrid private/public clouds include CloudFoundry, Hashicorp Terraform, and others. NetApp, or EMC
EDITOR's NOTE: This is not a complete treatment. Additional information will be added over time.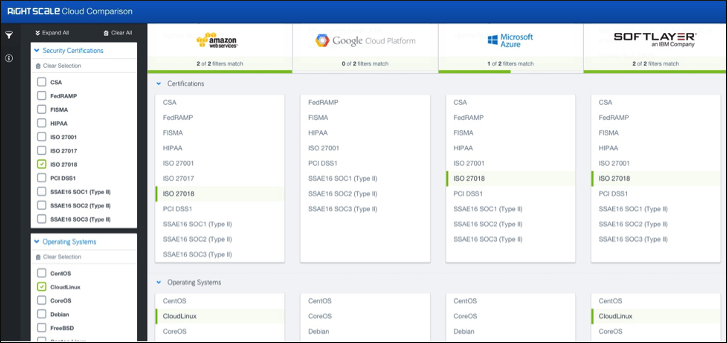 http://cloudcomparison.rightscale.com presents all the details well. DOCS So here I'm adding additional commentary here.
Additionally…
| Factor | AWS | Azure |
| --- | --- | --- |
| Company | Amazon | Microsoft |
| Initial appearance | 2006 | 2010 |
| Granularity of billing | per hour | per minute |
| Entrepreneurial Discount | - | BizSpark |
| # Data centers | 24 | 100 |
| # zones | 33 | 100 |
| Largest server | x1.32xlarge | G: |
| Largest # cores | 128 | 32 |
| Largest RAM GB | 1,952 GB | 448 GB |
PROTIP: Moving up to double the RAM or cores usually does not yield a doubling of capacity due to overhead and limits in shared components such as networking.
Pricing
Even though cloud vendors provide a great deal of transparency to how they price their services, there are so many variables to what affects the final bill that the only accurate way is to actually run services.
AWS has matched Azure pricing, and also per-minute billing.
Cowan analysis May 2016 (using 1.0 as average among vendors) rated Amazon 1.37 (above avarge) in prices (most expensive). Microsoft was rated the leader in price and APIs, but the lowest in support.
QUESTION: Is the comparison based on spot instances in AWS, which are of low cost because they can be taken away at any moment by someone who outbids.
Market share
Amazon had an early lead in 2006 and has been maintaing its lead even though Microsoft and Google are growing fast as well with 50%+ annual growth*
At the end of 2018, corporate filings reavealed this:

Earlier in 2015:
Operating Systems aliances
As of May 2016, Microsoft Azure works with SUSE and Oracle Java, but NOT Red Hat Enterprise Linux (RHEL).
Amazon provides software to host whatever OS is put into images. But its free server images are based on CentOS, derived from Red Hat as both use the yum package manager. Amazon is working on "Linux2" based on Red Hat.
Network infrastructure
Google has laid its own fiber-optic wires around the world:
As of this writing, latency between the EU and Asia locations is very high because Google Compute Engine does not have a direct link between them.
PROTIP: If you only operate out of just one region in the world, use a Central US region, which reaches West to Asia and East to Europe.
Network speed
Under ideal conditions, latency over networks are limited by speed of light traveling within fiber-optic cables, which is roughly 202562 km/s or or 125866 miles/s. (Actual reachable speed is still a bit lower than that).
To estimate distance between terrestial locations, use Distance Calculator website
To compare network speeds:
Outage tracking
https://status.aws.amazon.com is Amazon's AWS Service Health Dashboard applicable to all users. Under the tab for each continent is a list of each service plus region combination.
PROTIP: Most new services begin in the N. Virginia region "US-EAST-1", as do the most famous outages. So if you are running a production load, try to use a different region than that. Nevertheless, that's where one must provision AWS Cloud Front CDN for worldwide distribution.
https://phd.aws.amazon.com is your Personal Health Dashboard for your account.
http://downdetector.com/status/aws-amazon-web-services provides 3rd-party crowd-source status.
https://istheservicedown.com/problems/amazon-web-services-aws/history is a private-party site reporting the history of downtimes on AWS. For example:
For a list of outages further back: https://outage.report/aws-amazon-web-services
Categories of cloud services:
Service brand names
Here are the names of brand names, some with links to marketing or documentation pages:
Credit: TomsITPro and Microsoft's comparison
---
Resources
"Understanding the Difference Between Microsoft Azure and Amazon AWS" by veteran Pluralsight video presenter Elias Khanser, a Microsoft MVP
https://cloudonaut.io/my-mental-model-of-aws/
More on DevOps
This is one of a series on DevOps:
Packer automation to build Vagrant images
Terraform multi-cloud provisioning automation

Hashicorp Vault and Consul to generate and hold secrets
More on cloud
This is one of a series on cloud computing:
---